Eritrea
by Pete Badcock. Read about Eritrea in the CIA's World Factbook 2000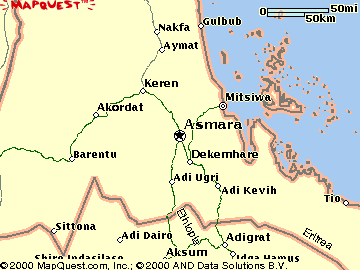 The 330km long 950mm guage railway in Eritrea was built between 1888 and 1932. Traffic had to cease however in 1962 due to the security situation. Some of the rolling stock was stored in tunnels but in the succeeding years much of the track was dismanteld so that rails and steel sleepers could be used in the military fortifications whilst rolling stock was degraded to sleeping quarters for soldiers.
Since independence however work has proceeded apace on a national project to rebuild the eastern part of the route. Workshop and shedding facilities have been re-established at Ghinda. The extensive workshops at Asmara, with much equipment dating from the 1920's, are been re-activated. About 30 open and closed freight wagons (including a rake bogie boxcars built in 1967 by Krupp) and five passenger bogie coaches (built by Officine Meccaniche, Milano 1912) have been restored.
Of the cl.442 0-4-4-0 Mallet locos (built 1938 by Ansaldo, tractive effort 11400kg) three and one is stored. The one remaining cl.440 Mallet with the same wheel arrangement (built by Ansaldo 1915 and tr.effort 7500kg) is also being restored. Of the Breda 0-4-0 locos (built 1929-32, tr.effort 5400kg) two are in service, two are being restored and two are stored. Serviceable locos are shedded at Ghinda, locos being restored or in store are currently at Asmara shed. Two 180hp Fiat railcars of 1935 (no:s 2&7) are also serviceable although with age their reliability has suffered.
Since 1998 the 69 kms up from Massawa/Mitsiwa (port) to Ghinda has been re-opened. Only the last 24km from Damas has a daily train serving the isolated agricultural communities for the carriage of passengers, agricultural produce and small livestock and generally hauled by one of the two 506hp Bo-Bo d-h locos built by Krupp in 1957. Occasional charter trains employing heritage motive power run the whole route.
On the 18km section from Ghinda (alt. 888m) to the road bridge above Embatkala (1450m) tracklaying and ballasting is complete and half the length has been tamped. The following 4km to Nefasit are however proving a problem as the roadbridge needs replacement and further washouts around 4 culverts need to be prevented.
The last 24km from Nefasit to Asmara (capital, 2342m) includes the steepest grades (1:30), sharpest curves (70m radius), 4 viaducts and 20 tunnels (longest 372m). As the condition of the tunnels and viaducts on this section was crucial, this section was cleared and surveyed in the early stages before deciding to proceed with the whole project. Because of the problems just below Nefasit, tracklaying will start shortly on this upper section making some use of servicemen released from the border conflict.
Re-opening throughout is planned for 2002.
This was always one of the world's spectacular rail routes. The re-building project is also spectacular as veterans, some who started work 65y ago on the line, pass on their skills. Spectacular also is that it has so far cost just US$ 3.5m (compared with figures from international consultants of $400m for new-build and $200m for use of reconditioned materials).