Ruhrkohle Rail for Sale
by Piotr Nietz
May 12th 2004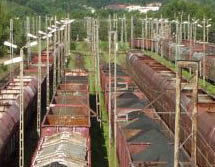 Polish state rail cargo operator PKP Cargo, along with German rail companies Rail4Chem and Rhenus AG on 10th of May submitted an offer to buy German Ruhrkohle AG's rail operations.
The board of Rurkohle has decided to sell the part of company which is connected with logistics, rail transport of coal and other resources for power industry companies in Germany. The reason for the transaction is a restructuring of the Rurkohle Group. If PKP Cargo's offer is accepted, Polish cargo operator might increase its transport of coal and other loads by about 50m metric tonnes.

PKP Cargo is the biggest cargo rail operator in terms of coal and other resources freight for power industry in Europe, carrying almost 70m metric tonnes of those raw materials last year. Total freight was over 160m metric tonnes. PKP Cargo hopes that acquiring Rurkohle's rail operations will create great possibilities in optimization of coal supplies for German clients and will give company a good footing in terms of development of its cargo transport in Western Europe.
PKP Cargo employs about 49 000 workers. In 2003 revenues were 5,9bn zlotys (about €1,25bn) and net income was over 160m zlotys (about €35m). PKP Cargo controls about 90% of Poland's rail cargo market. In accordance to the Polish government's railway restructurization programme, the company should be privatized before end of 2005.