August 99
The race is on to build the fastest train in the world, which will use a new Madrid-Barcelona railway slashing four hours off a journey that currently takes six-and-a-half hours. German Siemens is pitching its ICE concept against Alstom's TGV, and tilt trains are being jointly represented by Spanish Talgo and Adtranz. This last group claims to have developed a new tilting train with distributed power and a top speed of 370 km/h. Since Talgo is involved in the construction, the new train is likely to employ passive tilt (powered by the train's own weight) like all the other tilting trains Talgo has made. Other tilting trains like the Pendolino and X 2000, employ active tilt, meaning that a hydraulic mechanism heaves the car bodies over to one side.

(August 25th 1999)
Sixty people were injured when two subway trains collided in the Köln (Cologne) evening rush hour in Germany on Monday the 23rd. A prototype 'City-Sprinter' train, which has been undergoing testing for about six weeks, rammed another train from behind after running a red light. The prototype train was travelling at about 50 km/h. Five of the injured, including the driver of the prototype are said to be in a critical condition. See also Yahoo continuous coverage, AltaVista translation. (August 25th 1999)
Dutch NS Cargo's freight transport turnover in the first six months of 1999 declined by 10 percent. The volume also dropped sharply, by 3 percent. Especially the transport of chemical and industrial goods and that of agricultural produce decreased, as well as that of building materials for the railroads. (August 21st 1999)
Crown Princess Victoria of Sweden and Crown Prince Frederik of Denmark inaugurated the Öresund fixed link on Saturday the 14th, linking their countries for the first time in 7000 years, when the two were landlocked. Danish DSB is just taking delivery of new two-system freight locos which will use the bridge, which opens for traffic July 1st, 2000. See also a diagram showing how the last bridge girder was put in place, the press release in English, and some photos. (August 20th 1999)
Australia's trans-continental train the 'Indian Pacific' collided with a stationary freight train injuring about 12 people on August 18th. The Perth-bound train is thought to have been diverted off the main line at Zanthus, Western Australia about 200 km from Kalgoorlie-Boulder. The train was sent into a passing loop where the freight train was standing. Two carriages were derailed. (August 20th 1999)
Back-Door Privatisation
In a letter to staff, the boss of Swedish SJ Mr Daniel Johannesson says the company needs a higher profit margin and a better debt-equity ratio. To finance an expansion, new capital is needed, and since the government isn't dishing out any more money, the capital must be private. This is a contentious issue in a company run by the government since over 100 years, but Mr Johannesson stops short of a privatisation, saying that some divisions within SJ must seek private partners. This can be likened to privatisation through the back door. He also suggests that the increasing number of private train operators in Sweden is an opportunity for SJ's maintenance and other support units to gain a greater degree of independance, possibly with a private partner. Mr Johannesson has discussed these issues earlier, but now he says they will be discussed with the government this fall; some plans may require changes in the law. See also:
Wisconsin Central and Raytheon Infrastructure will operate and expand Jordan's main freight railway for 25 years in a deal with the government. The railway project is critical to accommodate a forecast doubling in production of phosphate, Jordan's main export raw material, to around 10 million tonnes annually by 2010. (August 19th 1999)
'Substantial Increase in Government Control'
The British government's plans to reorganise the privatised rail industry are confused and could lead to "a creeping renationalisation of the railways", a leading firm of London lawyers says. The review criticises the bill for its lack of clarity and detail in explaining what the new Strategic Rail Authority was to do other than "be strategic". "The precise functions it is to have, its duties in performing them and the powers with which it is equipped do to so are not clearly addressed and are confusing."

The bill would give the SRA power to provide rail services and reject private sector bids for franchises. "This is no minor reshuffling of administrative responsibilities. These changes represent a substantial increase in the control which the government will be able to exert over the industry," the review says. (August 19th 1999)
German Siemens may be merging its rail division with that of Canadian Bombardier if German DB AG doesn't exercise its option to purchase another 50 ICE3 trains. Overcapacity, falling prices and a good match are all factors pointing to a merger, Die Welt speculates; Siemens is a world leader in electronics and engines, while Bombardier is strong in car bodies.

(August 19th 1999)
German DB AG's profit for 1999 is expected to be the same as in 1998, ie around DM330m. Regional (subsidized) train served 4,4% more passengers in the first six months of this year compared to the same period last year, and national (unsubsidized) trains carried 1,7% more passengers. But cargo volumes fell 6%. DB AG gets annual grants from the government, falling each year in size. Staff numbers have decreased 6% compared to a year ago.

(August 19th 1999)
Amtrak's Gee Whiz-Plan
Amtrak is enjoying a slightly better than expected 1999 but still faces serious obstacles to becoming financially self-sufficient by 2003 as required by law, two recent government reports conclude. They credit Amtrak with being between $10 million and $14 million ahead of budget estimates for fiscal 1999. A 1997 law requires that Amtrak become self-sufficient by the end of fiscal 2002. If it appears Amtrak will not meet that goal, the Amtrak Reform Council must submit plans for a new national passenger rail system, and Amtrak would be required to submit a plan for its own liquidation. Amtrak's plan for making more money is partly to charge high fares with the Acela trains, and partly to expand a profitable express package service. (August 19th 1999)

Amtrak's new Acela fast train is getting a lot of gee-whiz attention in the US press. MSNBC reports that the Boston-New York travel time will drop from five hours to just over three, while the ticket price for this trip is more than doubling from $60 to $130. Good coverage in the press is key to getting consumers excited about the product, and being able to charge higher fares with sexier trains is key to salvaging many a passenger railway's battered finances. (August 18th 1999)

CNN has taken the Acela for a test drive as one of the new trains is being tested for up to 16 hours a day on a 13-mile track at the Transportation Technology Center, which sprawls across 52 square miles of land about 25 miles northeast of Pueblo. So far, the train has been driven at 269 km/h. More photos. (August 9th 1999, thanks Mathew Johnson)

British Connex, the London commuter train operator, has blamed the design of its seven-year-old Networker trains for more than 20 incidents in which trains have come apart.

(August 19th 1999)
Australia's Speedrail project linking Sydney, Canberra and possibly Melbourne has recieved renewed support following comments by Victoria's Industry Science and Technology Minister, Mark Birrell. He says a high-speed rail link servicing the eastern seaboard would extend the life of Sydney's existing airport and give eastern Australians another transport option. See also map, official site.

(August 18th 1999)
Conrail Takeover Glitches
Amtrak Express, the passenger railway's package and cargo transport business, has plans for expansion in Ohio, but Conrail assimilation glitches continue to distract attention from the people at Norfolk Southern and CSXT. (August 18th 1999)

New York rail shippers are still suffering from poor service due to problems with the split-up of Conrail. (August 10th 1999)

A seasonal lull in rail traffic has helped Norfolk Southern and CSX iron out glitches that plagued their rail networks in the weeks after they jointly took over Conrail two months ago. Both railroads believe the worst is behind them but acknowledge more work ahead, with pre-Christmas traffic expected to pose problems this fall. CSX and Norfolk Southern have taken hits to their bottom lines. Norfolk Southern's second-quarter earnings dropped 59%, while CSX earnings went down 25% from the same period last year. (August 3rd 1999)
Californian plans for a high-speed railway require the approval of a two-thirds majority in the state legislature. The state would have to cough up $23bn, so the California High Speed Rail Authority may settle for money for preliminary environmental and engineering work as a first step.

(August 18th 1999)
Bombardier is supplying 12 Duplex TGV trainsets together with Alstom for French SNCF for delivery between September 2001 and September 2003; Bombardier's part of the order is worth FF264m. Also, Bombardier is supplying 36 intermediate power cars for 12 double-decker MI2N trainsets for RATP in Paris, for FF200m. Further, six three-car Talent DMUs have been sold to German private operator Eurobahn for DM25m. They will be delivered between April and May 2000. Lastly, SNCB has ordered 210 double-deck coaches from Alstom and Bombardier; Bombardier's share is $159m. The double-deck coaches will be built at Bombardier facilities in Belgium. Deliveries, will take place between May 2001 and May 2003.

(August 12th/13th 1999)
Alstom Canada's order for over 3000 freight rail cars signals the maufacturer's entry into the North American freight rail car business, but also reflects globalization: while Canadian Bombardier makes inroads in traditional European markets such as DMUs, mostly-French Alstom is starting up in a traditionally North American market. However, they are collaborating on building the Acela fast trains for Amtrak.

(August 12th 1999)
Excessive speed has been blamed for an accident in China which killed 9 people near Hengyan in Hunan province last month. Sixty one people were also injured when an 18 carriage train, carrying around 1000 people derailed on 9 July 1999. Twelve carriages left the tracks and four toppled over. (August 12th 1999)
British Railtrack is going to install a watered-down version of Automatic Train Protection, called Train Protection and Warning System TPWS which is designed to prevent SPADs (Signal Passed At Danger). But not on the entire network, only at key junctions and other danger points across the network. TPWS will provide about 70% of the safety benefit of ATP at about 10-15% of the cost and can be introduced in a quarter to a third of the time, according to Railtrack. The system will be installed by 2003.

(August 12th 1999)
India has taken another step in the direction of building the much talked about Trans-Asian Rail (TAR) corridor connecting Asia with Europe. India is to form the southern corridor of the project linking Singapore to Turkey via Myanmar, Bangladesh, Pakistan and Iran.

(August 11th 1999)
China Spends
Three big Chinese cities are to get subways. The construction ministry said work would be allowed to begin soon on subway systems in Chongqing, Qingdao and Shenyang. This follows announcements of the start of work on a light railway project in Nanjing and plans for an underground in Shenzhen. Networks with a combined length of 430km and costing Rmb140bn ($17bn) are planned for 15 cities. (August 11th 1999)

Siemens and Adtranz will be jointly responsible for the electrification of the 950 km long railway line Harbin- Dalian in China (a total of 2800 km of track). The value of this order for this up to now biggest rail electrification project in the world amounts to approx. 350 Million DM. From this sum, around 55 % is distributed to Adtranz. Siemens is involved in the project with around 45 % of the total value of the order. Financing of the Project is enabled through a credit from the Kreditanstalt für Wiederaufbau (KfW), Frankfurt/Main, Germany. After completion of all works, the line, which is presently used by diesel trains, will be suitable for speeds of up to 200 km/h. In the middle of August 2001, trial operation will begin on the line. (August 11th 1999)
Portuguese CP has introduced a new tilting train, the Pendoluso. It achieves 220 km/h and the information display includes inside and outside air temperature. See also usenet discussion.

(August 11th 1999)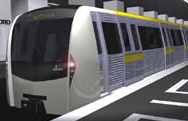 Bucharest in Romania has ordered 108 six-car subway trains from Adtranz for 110 million Euros. Gangways will allow passengers to move freely within the total length of the train. Also, Adtranz Signal will provide automatic train protection and control for Line 2, whic his where the new trains will operate.

(August 8th/11th 1999)

Adtranz Portugal is making additional of 38 new three car metro units, ML9x series, to cover the Lisbon Metro network extension. This order, valued at 130 million Euros, comes on top of a 1995 order for similar trains.

(August 11th 1999)
Real-time advertising in subways and other places is made possibe by a new technology developed by DHJ Media; the technology can project sharp images not only on to screens but also to curved surfaces. Advertising messages can be very precisely targeted by station or time of day to different audiences - commuters in peak hours, shoppers or tourists in the afternoon and leisure travellers in the evening. Advertising revenue helps lower subsidies and improve services in public transport. London Transport and Stockholm's Arlanda Express aiport train operator are among the first customers.

(August 9th 1999)
Freight Through Denmark
Siemens has rolled out Danish DSB's new six-axle, 126 metric tonne EG 3100 locomotive, which will be used for freight trains on the new fixed links between Sweden, Denmark and Germany. They reach 140 km/h, and are 20,90m long. Thirteen locos are on order, and their power rating is 6,5MW; they will be able to pull trains weighing 2000 metric tonnes up the steep 1,56% incline on the Öresund fixed link. The latest offspring from the EuroSprinter family, they come from the same production line as the German class 152 freight locos, of which 195 are on order. The EuroSprinter prototype was first shown in 1992. The EG 3100s are compatible both with the Danish electric power supply as well as the system used in Germany and Sweden; they also work with all three countries' incompatible signalling systems. Together with the Öresund and Great Belt fixed links, these locos will for the first time provide a seamless rail freight link from northern Scandinavia to Europe. DSB aims to increase transit freight by 50% and end losses by 2003. See also DSB press releases - 1, 2, 3. (August 5th 1999)

Danish DSB is handling 20 000 freight cars annually for Swedish forester Assidomän, starting in October. The contract increases rail freight transit traffic in Denmark by 30%. (August 5th 1999)
Indian Crash Highlights Investment Backlog
India has suspended five railway officials and ordered a fresh probe into the head-on train collision that left 285 people dead and more than 300 injured. The five suspended officials were local operational and safety heads. Another senior official was asked to go on leave. Railway officials have in the past been placed under suspension for accidents until after relevant commissions of inquiry have completed their tasks. (August 5th 1999)

India's railways require an annual investment of at least $3.9bn a year in coaches, track, communication and safety equipment in order to cope with growing demand, the Ministry of Railways estimates. But, last year, investment was $2.3bn, at least one-third of it coming from market borrowings at high interest rates. In spite of underinvestment but thanks to some modernisation and improved staff training, the number of accidents has dropped from about 700 a year in the mid-1980s to about 400 a year. However, trains are getting faster and longer, which means the consequences of accidents are worse. More than 2500 people have died in Indian train crashes since 1993. (August 5th 1999)

More News:

India's railway minister, Nitish Kumar, announced his resignation over the crash, the worst in India since a 1995 wreck near New Delhi killed 358 people. "Yesterday's accident cannot be excused," Kumar said. "It was criminal negligence and I own moral responsibility for it." Prime Minister Atal Bihari Vajpayee refused to accept Kumar's resignation. See also CNN story. (August 4th 1999)

Rescue work resumed this morning as hopes faded to find survivors among at least 200 people still trapped in the trains. At least 226 bodies had been removed. (August 3rd 1999)

Two trains loaded with passengers collided in a horrifying crash at a remote railroad station, killing several hundred people early on Monday the 2nd. An express was standing in the station when a mail train approached on the same line, probably due to a signalling error. Seven coaches of the first train and five of the second were destroyed. Officials first thought a bomb was involved, then speculation rose that explosives were in one of the trains. However, it is unlikely that there were explosives in the mail or in the passenger train. (August 2nd/3rd 1999)
Raytheon has built a 600-metre test track for a personal transit system, also known as rail taxi. The four-passenger vehicles are controlled by a central computer which choses the best route to the specified destination. The computer allows for a much more flexible and efficient system compared to conventional automatic or human-driven systems. The system has become viable since today's computers are powerful enough to control the entire system in real time. (August 2nd 1999)

The Taiwan High Speed Rail Corporation is ready to exercise its right to walk away from the deal before July 31 if the government does not put into writing pledges it has made on a range of preparations ahead of the construction, an official said. However, project insiders said it was unlikely either side would pull out of what is one of Asia's biggest infrastructure projects. The THSRC and the government were to have reached an agreement by Saturday the 31st. THSRC has been struggling to attract capital and to arrange the loans it requires.

(August 1st 1999)
Canadian Pacific will increase the maximum length of its main line trains to 150 cars (stretching 2750 metres in length) from 120 cars (2200 metres) in order to increase productivity. Canadian National made a similar move last September to increase train lengths and improve productivity. CN spokesman Mark Holland said the company's trains increased to a maximum 3000 metres, allowing the company to reduce its fleet by about 30 per cent. Federal regulations prohibit an idle train from blocking traffic at rail crossings for more than five minutes, but do not limit the amount of time trains can shuttle back and forth or pass through a crossing, said a spokesman for Transport Canada. Press Release.

(August 1st 1999)

British Railtrack has been ordered to make up a shortfall in its programme of reducing train delays within a year instead of the two years it had been seeking. Railtrack originally promised to cut delays for which it was responsible - due to track, rail or signalling failures - by 7.5 per cent last year. But it achieved only 6 per cent, including 2 per cent for passenger trains.

(August 1st 1999)

British Railtrack wants to see a five-fold increase in its income from revenue sharing deals with train operators in order to give it an incentive to invest. Railtrack does not benefit from spending on capacity improvements because the track access charges it levies on train operators are fixed. (August 1st 1999)