Britain
Sorry, this page is no longer being updated.
But you can read news from 1999 about Britain here.

Official websites: www.railtrack.co.uk
Index of British Train Operating Companies
Index of British Rail Associated Businesses
---
A survey of British rail safety professionals indicates that safety has fallen down the ladder of priorities over the past few years. (August 21st, 1998)

As a result of poor performance, British Chiltern Trains will spend £2.5m on keeping spare trains on standby for emergencies, replacing the engines on its trains and recruiting more drivers. (August 21st, 1998)

More than 100 private sector organisations have registered a formal interest in the partial privatisation of London Underground's infrastructure activities, London Transport said yesterday. (August 21st, 1998)

British train operating companies have been ordered by John O'Brien, rail franchising director, to submit detailed action plans to improve their performance. (August 18th, 1998)
The "extravagant" use consultancies costing hundreds of millions of pounds during rail privatisation "must not be repeated" when the Tube is reorganised, say British Members of Parliament. (August 18th, 1998)

Construction of the Chunnel Rail Link is due to start in October. But London & Continental Railways, the Channel tunnel rail link consortium rescued by the government in June, is unlikely to have completed its financial restructuring by then. Groundbreaking could then be delayed by several months due to the winter. (August 12th, 1998)

British Railtrack has made a firm pledge to reduce train delays by 7.5 per cent this year following an improvement of just 1 per cent in 1997-98. Railtrack was criticised for last year's small increase, which followed an improvement of 38 per cent the year before. (July 23rd, 1998)
Another strike at London Underground stopped 35% of trains and closed 8 stations. (July 15th, 1998)
The Heathrow Express rail link was opened today (the 23rd, 1998) by Prime Minister Tony Blair. The train leaves every 15 minutes, takes 15 minutes and the ticket costs £5-£20. All of London's main airport now have rail connections. Heathrow also has a slower tube connection. (June 23rd, 1998)
---

Virgin Rail will not be floated on the stock market. Instead, Stagecoach is buying out the Virgin Group's partners in Virgin Rail. The deal leaves the Virgin Group with 51% and Stagecoach with 49% of Virgin Rail.
It also leaves Virgin boss Richard Branson with management control and avoids the need for a flotation. Brian Souter, Stagecoach's chairman, is now closer to operating the size of railway which he sought from the outset of privatisation. Despite making offers for all 25 rail franchises on offer, he was outbid on all but SWT and Island Line.
There are stories not requiring free FT registration at the BBC and Yahoo UK (June 23rd, 1998)
---
A strike at London Underground is set to start on Sunday evening (the 14th, 1998) and end Tuesday night. (June 12th, 1998)
Porterbrook, the British train leasing company, has ordered 125 Turbostar diesel trains from Adtranz for £110 million (155 million ECU). Forty-five of the 160km/h trains will go to ScotRail, 26 to Central Trains; the rest have been bought in hope that the market will expand. (June 15th, 1998)
Great North Eastern Railways has done safety checks on all 31 of its electric trains after an IC225 derailed on Tuesday evening in Bedfordshire, north of London. The derailment is thought to have been caused by a cracked wheel. Nobody was seriously injured. (June 18th, 1998)
Virgin Rail will be floated on the stock market next week, industry sources said Monday. Virgin Rail is part-owned by billionaire entrepreneur Richard Branson and the floatation is expected to net 250 million pounds ($407.8 million). The Virgin Group is known for its tangled web of cross-ownership which makes the structure of the group quite impenetrable to outsiders. (June 8th, 1998)
The Eurostar franchise is expected be to awarded to a joint venture between National Express and British Airways, and the concession for building the London-Chunnel CTRL will go to Railtrack, British Sunday papers say. The government decision is expected in two weeks, along with £700m to save the CTRL. Competitors say this gives BA a dominant position.
"Allowing British Airways to run Eurostar is like putting Herod in charge of a kindergarten," easyJet said in a statement. (June 1st/2nd/3rd, 1998)
Railtrack is to invest £1.45 million on a scheme to enhance part of the British West Coast Main Line for freight traffic. (June 2nd, 1998, 1998)

Britain's privatized railways were fined £4m for service failings on Monday the 11th, 1998, for bad service. But they were still slightly better than pre-privatisation services under British Rail, the regulator said. (May 12th, 1998)

The London Underground's tracks will be privatized, while train operation will stay with government-owned LU. This plan is opposed by Peter Ford, the sacked chairman of London Transport. He thinks that LU should stay as it is, but be able to borrow money on capital markets on its own. He also says that transferring risk to the private sector may be an illusion, as the CTRL has shown. Mr Ford is accusing the government of using the bulldoze method to push its ideas through. (May 12th, 1998)
A "smart card" ticketing system is being installed on the London Underground for $1.6 billion by Transys, a four-company consortium. The consortium says the new system will save LU 30-40 billion pounds per year in eliminated freeriding. (May 12th, 1998)
More than one in three regular rail travellers in Britain believe services have worsened under privatisation, says a major survey. Nearly half - 45% - of all travellers think fares are too high, with commuters having the most to grumble about, says the survey by Rail magazine. (May 19th, 1998)
Railtrack has a new weedkilling train which also can douse fires and melt ice. (May 19th, 1998)
Three one-day strikes called by the RMT rail union on British South West Trains have been called off. (May 19th, 1998)
International Wagon Services, a rail freight car company headquartered in Bromley, England, 1998, will be sold to GE Capital Railcar Services. IWS owns Tiphook, a company which owns and operates over 2100 rail freight cars throughout Europe. GE Capital Railcar Services has previously acquired Cargowaggon. (May 5th, 1998)
A price war is set to erupt in Britain. North West Trains will offer a £20 return ticket Manchester - London, undercutting Virgin Rail by as much as £78. This will be the first price war in modern rail history. Other companies are also targetting Virgin. (May 4th, 1998)

Eurostar's passenger revenue jumped 50% on the London - Brussels route in the first quarter of this year, compared with the last three months of 1997. First class travel has been especially strong. The increase followed the opening of the high-speed line between Lille in northern France and Brussels on December 14, which reduced journey times between London and Brussels by 30 minutes to 2hrs40min and enabled a frequency increase to 10 trains a day, from eight. Sagging Eurostar revenues are the main reason for the trouble in finding money to build the London - Chunnel CTRL. (May 4th, 1998)
The British Health and Safety Executive has advised Railtrack that it should ensure that drivers have plenty of warning in order to assure they can stop whenever necessary. This and other recommendations are the result of an inquiry into an accident in Watford South Junction in Hertfordshire on August 8, 1996. One person was killed and 69 people were injured when a train collided with a stationary passenger train. (April 30th, 1998)

Connex Rail may have its franchise extended to 15 years if the company can offer sufficient service improvements, the franchise contract stipulates. Connex now says it will replace of all the 500 slam-door carriages in use on the south-east network with new or refurbished carriages, if the franchise is extended.
Connex also plans to electrify the two remaining sections of non electric track in the south-east between Oxted and Uckfield and Hastings and Ashford to allow it to run fast trains throughout its network. This represents 50 miles of track and would involve £25m of capital investment by Railtrack, which would be paid in higher track access charges. (April 30th, 1998)
More trains should mean higher charges, British Railtrack says. Railtrack resents that 91% of access charges are fixed, meaning the company gains little extra revenue from additional trains run on its network. The griping comes as the goverment does a "Periodic Review" of Railtrack's regulatory framework. The review will take several years, and uncertainty during the Review will raise the cost of capital, Railtrack complains. (April 20th, 1998)
Operation Scarecrow will deterr trespassing of track in Britain. Trespassing and vadalism increases in Britain in the spring as evenings get longer and brighter. (April 20th, 1998)
On-time performance at Liverpool Street station has improved by a "major blitz by a dedicated team of railway engineers," Railtrack says. (April 20th, 1998)
ScotRail has ordered forty electric Class 334 "Juniper" trains from GEC Alsthom £100 million. The trains will be manufactured at GEC ALSTHOMís Washwood Heath facility in Birmingham. The first train is scheduled for delivery in July 1999 and the full fleet will be operational by March 2000. "Juniper" is GEC Alsthom's modular train which can be configured for different purposes. (April 20th, 1998)

The Heathrow Airport extension of the London Underground is to be financed by the British Airports Authority. The link will be leased to LU for 30 years, which will pay off construction costs from fares. (April 11th, 1998)

Upgrade plans for Britain's West Coast Main Line won't be okayed by the rail regulator until Virgin Trains and Railtrack prove that other train operators will continue to have adequate access to the railway. The upgrade will cut London-Glasgow journey time by 1-1Ĺ hours to four hours and allow road trailers to be carried on piggyback rail wagons. (April 7th, 1998)
National Express has placed orders for 62 new trains worth £148m for its ScotRail and Central Trains franchises in Britain. They are forty electric trains from GEC Alsthom in Birmingham and 22 diesel trains from Adtranz. The electric train order has been financed by Forward Trust Leasing, a subsidiary of HSBC, the international bank. It is the first time Forward has broken into rolling stock market and signals the growing competition for such deals. (April 5th, 1998)
Aslef, the British drivers union, has advised its members to cut train speeds if they think tracks or signalling are in poor condition, and warned that rail services could be seriously disrupted. The move coincided with the announcement by Gavin Strang, the Transport minister, of an immediate review by the Health and Safety Executive of Railtrack's role in setting and enforcing safety standards. And Rail regulator John Swift wants to test whether the £16.5bn 10-year rail investment program unveiled by Railtrack was meeting the needs of the train operating companies. (March 29th, 1998, more here)
Amey wants to run the Tube in London. The facilities management and railway maintenance company, plans to bid for concessions to run and maintain sections of London Underground's track, stations and tunnelling. (March 29th, 1998)
A Strategic Rail Authority is needed to oversee Britain's privatised rail system, an all-party parliamentary committee has decided. The SRA would impose swift penalties for poor performance and prod Railtrack and the three rolling stock leasing companies into higher levels of investment.
Rail safety would be handled by a new body independent of the SRA, which would take over the functions of Railtrack's Safety Standards Directorate. Railtrack also currently runs the snappy-sounding Electrical Engineering & Control Systems Safety Assesment Panel. (March 22nd, 1998, more here)
The British government is working on a plan to avert a strike at the London Underground. (March 21st, 1998, more here)
Bombardier will build 55 trains and maintain them for Virgin's Cross-country franchise, for £850m ($1.4bn). Virgin's network stretches from Aberdeen in the north of Scotland to Penzance in south-west England and Brighton in the south-east. Two thirds of the trains will be equipped with tilting mechanism. (March 12th, 1998, more here)
The sale of British Great Western was to be stopped by deputy prime minister John Prescott because it did not provide for improvements to passenger service. The sale is, however, very lucrative for Great Western management, the Financial Times writes. But John O'Brien, the rail franchising director, approved the deal. Great Western has been bought by FirstGroup which has promised to invest £75m in its three franchises in the form of new and refurbished trains and station improvements as a condition for winning approval. (March 12th, 1998, more here and here)
The train driver in English rail disaster in August has been found not guilty for passing signals showing 'stop'. (March 12th, 1998, more here)
Fiat and GEC Alsthom won the 1.5 billion ECU contract for supplying a fleet of 225 km/h tilting trains for Virgin Trains West Coast Main Line franchise. This was widely expected. GEC Alsthom has also won orders to supply five commuter trains for Dublin and ten for Italy. (March 9th, 1998, more here)
Ten of 19 British operators improved their performance, while seven have worsened and two have had no change in their services. (The source article doesn't give a time span.) (March 2nd, 1998, more here)
The Economist has a long article about railways in the current issue, and another about Richard Branson's Virgin group of companies. Virgin Rail is his biggest challenge yet, The Economist writes. They also note that "Rail freight may revive in the 21st century; but it will not prosper against its road competitors until prices are properly adjusted to reflect environmental and other costs." (February 25th, 1998, more here)
British Virgin Rail has dropped its request to keep access to the London - Manchester line until 2027, 15 years after its franchise expires. Virgin cites controversy as the reason for backing down. It is buying 250 km/h EMUs for the line and had said it needs to keep running the trains till 2027 to make a return on its investment. Virgin envisions running its trains even if the franchise goes to another company when it runs out. (February 20th, 1998, more here)
Bids for signalling the British West Coast Main Line have been filed with Railtrack. The upgrade will give the WCML automatic train control, overriding the driver's commands if he or she drives too fast. This technology is common, but according to the Financial Times, existing light signals will be dismantled, rather an uncommon thing. (February 17th, 1998, more here)
Fiat and GEC Alsthom are set to win Virgin's order for 40 tilting trains for £1bn; this includes maintenance. The trains will reach 200 km/h, this will be lifted to 225 by 2005 when a signalling upgrade has been completed. (February 14th, 1998, more here and here)
EWS has won a contract to ship grain from England to a distillery in Scotland. (February 13th, 1998, more here)
Fiat and GEC Alsthom will win the order for 55 tilting high-speed trains for British Virgin Rail, according to industry sources talking to Reuters. (January 26th, 1998, more here)
The Heathrow rail link in London was partially opened Monday the 19th. The rest of the privately financed line will open in June. More on the link. (January 21st, 1998, more here)
British rolling stock companies shouldn't be regulated, says a study finaced by the biggest so-called rosco. The report says that since new trains are being designed for use on the entire British network, there will be sufficient competition between the three roscos when current train leases expire. (January 21st, 1998, more here)
Yorkshire is stuck with the Supertram and all the losses it has run up. The British High Court has ruled that the British government doesn't have to support the project. The 18-mile network was supposed to be sold to private interests, but it has failed to meet expecations of passenger numbers, partly because a planned housing development along the route hasn't materialized. (January 21st, 1998, more here)
The British train operators were fined £3m for poor service in the quarter year to December 12th. John O'Brien, rail franchising director, says to the Financial Times that he was concerned and disappointed by the TOCs' performance. The fines are for late, cancelled, and overcrowded trains. TOCs performing especially badly must also lower cost of their monthly passes. (January 16th, 1998, more here)
Central Trains plans to buy 13 MUs to cope with a 11%-increase in passenger numbers over the past year, writes the paper edition of the Financial Times. Central wants the two-car trains to be delivered by spring 1999. (January 16th, 1998)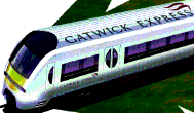 The new Gatwick Express airport EMUs may look like this. The buss and rail company National Express, which owns the 15-year Gatwick Express concession, ordered 8 eight-car EMUs on April 14th 1997, for 100 million pounds. GEC Alsthom won the order, their first British order since the privatisation of British Rail. They will run the 42 kms London-Gatwick in 25 minutes at 160 km/h, against 30 minutes now. They are being built in Birmingham, will enter service in 1999 and will be maintained by GEC Alsthom for 12 years as part of the contract.
Back to Erik's Rail News front page