Sweden
Sweden's first aiport train is being tested by the rail safety authority Järnvägsinspektionen. Seven non-tilting 200 km/h four-car trains are on order from a private build-operate-transfer consortium. The new railway between Stockholm and Arlanda airport will be opened this fall. The 40 kms will be covered in 20 minutes, half the time the airport busses take. Four more pictures here, totalling 127 kb. (June 22nd 1998)
Swedish Rail Administration Banverket is asking the public for solutions to the debacle under the Hallandsås ridge. The half-built tunnel under the ridge will be way to expensive to complete. Banverket wants locals to get involved in the future of the tunnel and which routes trains should take. (June 22nd 1998)
---
Troublesome Ridge
The tunnel through the Hallandsås ridge in southern Sweden will be far too expensive to complete, says the board of Swedish rail administration Banverket; but a decision won't be made until november and the government has the final say. Banverket thinks it may be worth another try in 15 years' time.

The tunnel was meant to have provided shelter from slippery leaves in the fall, flattened steep inclines and straighetened curves on the West Coast Main Line, running Norway - Gothenburg - Malmö - Denmark. Both passenger services at 250 km/h and heavy freights will have to be diverted or slowed down.

The Hallandsås scandal is the worst in Swedish history. A watertighting agent called Rhoca-Gil had not reacted properly and its poisenous, unreacted components leaked into the ground water last fall. The Halland tourist industry has been reeling ever since. (June 18th 1998)
---
250 km/h running may be introduced in Sweden between Stockholm and Eskilstuna. The 100 km line from the Stockholm Flemingsberg suburb to Eskilstuna has been entirely rebuilt for political reasons since 1990. Earlier plans to increase speed from 200 to 250 on parts of the Göteborg-Stockholm line were dashed when the government cut funding for this project. (June 8th 1998, source: paper edition of Göteborgs-Posten)
---
New Bothnia Railway
The Bothnia high-speed, heavy-load coastal railway in northern Sweden will be financed by government-guaranteed loans, the parliament has decided. A company owned 91% by the government will borrow the money. The other 9% of the company will be owned by the communes (towns) that the railway passes through. Groundbreaking is planned for the summer of 99. The railway will permit a top speed of 250 km/h and a maximum axle load of 25 metric tonnes (though not at the same time). Maximum grades will be 10 per mille.

The Bothnia railway will stretch from Kramfors (Sundsvall) to Umeå and complement the existing North Trunk railway, which was built inland (where nobody lives) for military purposes. The Swedish coast has for centuries been exposed to Russians. Read more at the town of Örnsköldsviks website. (June 4th 1998)
---
Administration swallows 25% of the ticket price, says Swedish SJ's boss Daniel Johanneson to the magazine it.Affärer, issue 4/98. To combat this, he says he wants to increase self-service by internet; there will even be a self-service discount.
"The net has become a new channel for sales which can cut our ticket prices," he says. (June 2nd 1998)
A Swedish transport bill has been tabled by the government. It suggests liberalizing long-distance buss traffic and drastically lowering track access charges for electric trains. However, the bill would hurt private freight operators by charging higher track access fees for diesel trains. (May 8th 1998)
Swedish SJ earned US$200 million on the transport through Sweden of Nazi soldiers during the second world war, a grade 9 history class has concluded after 2 months of research. The sum has been adjusted for inflation. The trains were used to replenish German forces battling Norway. (April 7th 1998)
Swedish track access charges will fall 80% if a transport proposal, to be put before parliament by March, gets passed. This would be in an attempt to "level the playing field" between air, road and rail services. Environmental, safety and wear-and-tear costs have been considered for each mode. Further, the state railway SJ will keep its monopoly on intercity passenger service and its grandfather rights for slots for freight services.
Part of the "capillary network", ie factory sidings, will be taken over by rail administration Banverket. Intercity bus service would be deregulated, and vehicle tax for busses and trucks would be raised sharply. (February 25th 1998, more here)
BK Tåg is starting service Karlstad - Gothenburg, in western Sweden, in co-operation with the Port of Gothenburg, Lake Väner Ports and LBC-Frakt. Tetra Pack, the carton maker, will be the principal customer. But the partners hope to attract other customers to the train in the future. Services start May 2nd. Since June 1996, private companies may operate freight services on all government-owned railways in Sweden if there are empty timetable slots. (February 25th 1998, more here)
Former shortline BSM will run passenger services Jönköping-Halmstad in southern Sweden for two years, on contract for the provincial transit authorities. The contract, not yet finalized, is for 2 million train-km per year. (February 17th 1998, more here)
Bus company Swebus is forbidden to operate on five major routes, the government says. They are:
Two routes Stockholm - the north, where the railway is in poor shape.
Göteborg-Malmö, where a major upgrade is underway.
Two routes to Uppsala, which require changing trains in Stockholm.
This is to protect the trains. Busses may operate Stockholm- Göteborg/Malmö where trains average 140 km/h+. (February 7th 1998, more here)

SJ is sloppy with dangerous goods, says railway safety authority Järnvägsinpektionen. Goods are too often not labelled properly. This hampers rescue work in the event of an accident.
– This is worse than we expected, says unit chief Lena Tistad at Räddningsverket in Karlstad to the daily Svenska Dagbladet. (February 7th 1998, more here)

The Hallandsås Tunnel in southern Sweden may well collapse after it has been completed despite lining with concrete, says a leading Swedish geologist, Jan Bergström. He also accuses rail administration Banverket of withholding information to the construction companies which bid for the assignment. The tunnel is a big scandal due to a leak of unreacted components of the watertighting agent Rhoca-Ghil. Work at the tunnel has been idle since October 6th. (January 21st 1998, more here)

Only one profitable line is what Swedish SJ has, according to unofficial estimates. The Stockholm - Göteborg trains make money for SJ to use in cross-subsidizing other services. (January 15th 1998, more here)

More cars around Mälaren, the big lake west of Stockholm, have been put into service. They are sorely needed as passengers even in first class have been sitting on the floor for lack of seats. Railway administration Banverket, and the operator SJ are working together with the transit authorities' body Tåg i Mälardalen are making changes in infrastructure and routines in an effort to make the trains run on time. The rebuilt Mälar railway north of lake Mälaren and the brand new Svealand railway south of it, were both opened this year. (December 23rd 1997, more here, thanks Erik Möller)

Fifty Stockholm commuter EMUs will be renovated in the next few years. One of the X10 two-car EMUs has been equipped with individual seats (instead of the three-person benches) and space for bicycles, and has been repainted in the subway's new Vagn 2000 scheme, see below. Another X10 will be ready in March, but with the current blue livery; later, a serial renovation will begin for the other 48 trains. The 94 older X1 EMUs also used in Stockholms commuter train service will not be renovated. (December 10th 1997, Bruse LF Persson/Pia Gillsäter at SJ Persontrafik Pendeltåg)

This is Stockholm's new subway car C20. It has unsqueaky radially adjusting axles and glass walls behind the cabs so passengers can see forward, and the driver can give the evil eye to passengers who don't behave. The pantograph is temporary for test purposes. The subway system runs with a third rail. Read more about C20 here and here in Swedish. Photo: Adtranz.
Malmö's Sturup Airport will be rail-linked with Kastrup, the international hub airport in Copenhagen, if the Swedish airways administration Luftfartsverket gets its way. Swedish Sturup has excess capacity whereas Danish Kastrup does not. The rail link would consist of a track to the Malmö-Ystad railway which in turn will be linked to the Öresund Fixed Link, to be completed in 2 years. (December 8th 1997, more here)
Regular service at 250km/h in Sweden will start in 1998, according to an article by SJ's Director-General Stig Larsson in the European Railway Review, 2/97. The first stretch invoved is probably Katrineholm - Falköping on the Stockholm - Göteborg line. X 2000 intercities currently attain 200km/h, the fastest journey time being a Göteborg - Stockholm nonstop which averages 157km/h. (December 3rd 1997)
Swebus wants to start service Malmö-Göteborg on the Swedish West Coast, and has asked permission from road administration Vägverket to do this. The bus would run faster than the train as the railway is still in the middle of a major upgrade. Policy has so far been that bus services will be deregulated once the railway has been completed. (November 25th 1997, more here)
Smoking sections will be discontinued in January on all of Swedish SJ's trains. SJ says even smokers don't want to sit in them, and smokers may now do so in two vestibules per train. (November 25th 1997, more here)
Upgrading of Malmö marshalling yard in southern Sweden was started the 19th. Seven receiving tracks will be lengthened by 100 metres to 750 metres, and three new 750 m tracks will be built. (All new and modified sidings in Sweden are now made 750 m where conditions permit, as a matter of policy.) A through track will be built for direct traffic via the Kontinentalbanan to the Öresund Fixed Link and Trelleborg/Ystad. The work will be ready by 1999. (November 25th 1997, more here)
The tramway ring in Gothenburg, Sweden, was given the go-ahead by the city government yesterday. The 650 million SEK project includes missing links to form a ring around the inner city, facilitating links trips from the northeast to the southwest and other trips from suburb to suburb. See map. (November 13th 1997, more here and here)
The risk for cancer in train drivers driving electric engines will be studied at the University of Umeå in northern Sweden. Several drivers have volunteered for the study, which the railway SJ has no part in. In fact, SJ cancelled such a study a year ago, saying that it was unnecessary to worry train drivers. (November 12th 1997, more here)
Passenger services on the new Mälar railways west of Stockholm, the Swedish capital, are sub-rate. On the Mälar railway, north of Lake Mälaren, passengers in first class are given cushions as they have to sit on the floor. There are not enough seats. On the Svealand railway, south of Lake Mälaren, all trains are at times delayed by an hour due to the single track and also because planners have not yet optimized time tables. (November 12th 1997, thanks Erik Möller)
The very respected Swedish magazine Affärsvärlden has analyzed the great Swedish investment in new and upgraded railways -- 40 billion SEK worth over ten years, about 190 million $US -- and concluded that more money for new trains, and less for infrastructure, would have given more bang for the buck. Current Swedish rail policy allows government to pour money into railways, but direct subsidies to operation are made transparent through the procurement of certain services by tender. (November 7th 1997, more here)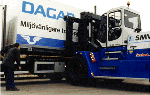 A Swedish grocery chain is going to have groceries delivered with a new type of train which will be equipped with its own forklift. Each stop is expected to take 15 to 20 minutes.
The road/rail containers will be equipped with radios which will enable real time tracking 24 hrs a day. The system will be in full operation by April 98. Right photo by Jan Lindahl. (October 30th 1997, more here)
The marshalling yard in Malmö in southern Sweden will be modified for 44 million SEK ahead of changes in traffic when the Öresund Fixed Link opens. From Malmö, two-system electric engines will haul freight trains all the way to Germany. Just a year ago, freights to Germany changed engines twice and used two ferries. Now, with the completetion of the fixed link over Storebält, they use one ferry but change engines twice. (October 30th 1997, more here)
The covering of the track area at Stockholm C will end up looking something like this; the final design of the hotel/conference facility will be finalized next year with contruction starting at the end of 1998. (October 24th 1997, more here, in English)
Mr. Daniel Johannesson is the new boss of Swedish SJ, taking over from Mr. Stig Larsson. Plans for breaking out the freight division SJ Gods from the company with the departure of Mr. Larsson seem to have come to naught. Mr. Johannesson has been chief executice officer for several nordic companies, including Telenor and Telenordia, and will take office on February 1st. (October 24th 1997, more here)
Let Rhoca-Gil rain away is builder Skanska's and rail administration Banverket's plan for cleaning up after the scandal with the waterproofing agent Rhoca-Gil which turned out to be harmful to the nervous system. The agent was used on a large scale in the Hallandsås tunnel in southern Sweden. Now it is hoped microorganisms will break down the chemical before it reaches the groundwater. (October 24th 1997, more here and here)
Work at the Hallandsås tunnel in southern Sweden has been suspended due to a waterproofing agent that turned out to be harmful to the nervous system. 5000 people demonstrated against the project on Sunday. (October 12th 1997, more here)
An extra morning train on the Svealand railway from Eskilstuna to Stockholm at 0652 has been running since September 28th. This offers relief to passengers who earlier didn't find a seat and had to stand. The extra train from Eskilstuna was made possible by moving the sleeper from Copenhagen to a slot earlier in the morning. The southern approaches to Stockholm are very congested in the mornings and afternoons. (October 6th 1997, thanks Jonas Strömblad)
A waterproofing substance used in the Hallandsås tunnel (under construction in southern Sweden) may be poisenous. Water from the tunnel has been channeled into a stream, which cows have been grazing by. Some cows and fish have been poisoned. The substance has been used extensively since after the summer break; it has previously been used widely in Europe, but not on a large scale as in Halland. (October 6th 1997, more here)
TV in the train will be started on the Uppsala -Stockholm commuter trains starting October 21st. All of SVT's news programs will be broadcast, and between them there will be SJ's own "Train Television". There will be no other advertizing. Forty four-inch screens will be installed om armrests in each train, 20 in first and 20 in second class. Some "test pilots" will be given priority access to the TV-seats for a year, after which there will be an evaluation.
"If you take the 9:00 pm train from Stockholm, you'll have just enough time to see all of 'Aktuellt' before you arrive in Uppsala at 9:42 pm," says Rickard Wiking at SJ to Tidningarnas Telegrafbyrå. (SJ's own Uppsala -Stockholm trains should not be confused with those of the provincial transit authority.) (October 6th 1997, more here)
The Duotram from Saarbrücken was tested in Gothenburg on Wednesday on harbour tracks. The duotram can run on both railway and tramway tracks, as the trams do in Karlsruhe since a few years back, and Saarbrücken in the near future. More extensive tests on rail commuter lines could have been done had the tram been compatible with the Swedish signal system. Other incompatibilities include the wheel profile and that platforms are of different height on the tramways and railways. Photo here. (September 26th 1997, more here and here)
Financing of the Bothnia Railway in northern Sweden should be in place by December 15th. That's when the government's negotiator Bengt-Owe Birgersson will present a plan, agreed on by public and private bodies. Groundbreaking may then start in 1999, with opening ceremonies in 2006. The Bothnia railway is a several-hundred km coastal alignment between Sundsvall and Umeå that will replace the old one farther inland (not to be confused with the Inland Railway). The alignment will accomodate trains running at 250 km/h. (September 26th 1997, more here)
The working tunnel on the Hallandsås mountain in southern Sweden is finished, and boring will now be done both from the "outside" and "inside" of the Hallandsås tunnel on the Gothenburg -Malmö west coast line. Railway administration Banverket has demanded permission to lower the water table while digging the tunnel, but low water leakage may make this unecessary. Possibly, the tunnel will be ready on schedule by the year 2000, together with the Öresund fixed link Malmö -Copenhagen. (September 21st 1997, more here)
Electricity allergy may be cureable with psychological methods, according to a PhD thesis by psychologist Uwe Harlacher. About half of 40 patients that he treated said their condition improved significantly. Harlacher says very few cases have been reported outside Sweden, and adds that the condition may be comparable to mass hysteria. The dangers of long-term exposure to magnetic fields are gaining attention in Sweden with wider use of computer screens and reports of higher cancer frequencies in train drivers. (September 15th 1997, more here)
MTAB, the ore railway in northern Sweden, is buying 650 ore cars, bids are due in October 1st. MTAB is also buying new locos, bids due in February 1st; MTAB is spending 1,5 billion SEK on vehicles in the next few years. (September 4th 1997, more here)
SJ may be divided into two or three separate companies when CEO Stig Larsson leaves his post. Passenger and freight services would become separate companies, as suggested in The Communications Committee's report, but the X 2000 trains may also be run in a separate company. (August 23rd 1997, more here and here)

The Arlanda railway connecting Stockholm with the airport, is taking shape. Catenary posts have been put up and track has been laid on certain stretches. Terminal 5 is being rebuilt to accomodate the underground station, but also in accordance with new EU customs regulations. The picture was taken on July 1st a few hundred metres south of where the railway crosses the Stockholm -Uppsala higway. More pictures here. Photo: Erik Sandblom

Here's a mock-up of the GEC Alsthom-built airport EMU that will run between Stockholm and Arlanda Airport in a few years at 160km/h. According to the Swedish Airport Administration Luftfartsverket, the train will be called "Arlanda Express" and the ride will take 20 minutes. It will be a four-car EMU with motors in the end cars, pantograph on one middle car and electrical stuff on the other, according to UF. Photo: GEC Alsthom.
Seven timber cars derailed on Sunday in Norway close to the Swedish town of Storlien. Five of the cars fell down a ravine. The passenger traffic (2 trains per day) had to be carried by bus. The train was 26 cars long and the cause of the accident was a technical fault. The timber was on it's way to a factory in Norway. (June 11th 1997)
Paper billboards are antiquated since a Swedish company, DHJ Media, has taken a patent on digital backlit large monitors. DHJ is negotiating with the Stockholm and London subways and hopes to erect a few monitors this year. Via a control center you can control all the billboards in real time. (May 22nd 1997)
The electricians' strike on the Öresund link is over. Three union organizations negotiated among themselves and decided that the five workers at Thyssen Rulltrappor will be organized by the electricians' union, though Thyssen's contract with Metall is still current. (May 17th / May 9th 1997)
The building of the Öresund Link may be interrupted this week by striking electricians. Sundlink Contractors have earlier said they won't run the cement mixers unless the electricians are on hand to fix technical difficulties, and say the stop may come this week. The electricians are unhappy with Thyssen Rulltrappor (escalators) in Stockholm. The electricians' union thinks that Thyssen, which has nothing to do with the Öresund Link, is luring it's workers to the wrong union (Metall). (May 12th / 9th 1997)
Back to Erik's Rail News front page