January 00
End of British Cottage Industry?
British railways may need an injection of government money if they are to be properly modernised, a passenger watchdog body has warned. The Central Rail Users' Consultative Committee said private sector cash alone may not be enough to fund the transformation of the rail system. (January 28th)

Uncertainty characterises every aspect of the British rail refranchising process: the carving up of networks; who will win and lose franchises; which companies are vulnerable to takeovers. One thing is almost certain, however. The decisions made over the next couple of years will determine who controls the railways for at least the next two decades. The Shadow Strategic Rail Authority has thrown 25 existing franchises in the air and asked operators to design new systems. As few as 14 "super-franchises" could emerge this time, lasting 20 years instead of the previously common seven years, and run by maybe eight of the existing 11 operators. (January 21st)

Sir Alastair Morton, the man in charge of overhauling the British railway network, warns that the massive investment needed would not be possible without the City and project management specialists. The comments by the chairman of the Shadow Strategic Rail Authority signalled his concern that train operators and Railtrack, which runs the infrastructure, do not have the funds and management skills to cope with the scale of improvements needed. (January 21st)

Connex, the stike-ridden London commuter train operator, has resumed negotiations with trade unions in an effort to avert escalation of a dispute that yesterday crippled services on one of the busiest networks. Both sides adopted a more conciliatory stance in public and talks were under way last night over the 35-hour week at the heart of the dispute. Some 200 000 Britons faced commuter chaos on Tuesday when train drivers on routes into London from south east of the capital staged a 24-hour walkout. Amid 90% cancellations on usually busy rail routes, roads were already backing up before the first light of day as commuters struggled to make it into the capital. The union has threatened further one-day strikes on February 2, 10, 18, 21 and 29. See also Reuters story. (January 27th)

Big increases in Eurotunnel's freight shuttle business last year helped offset a fall in passenger numbers to give a small lift to operating revenue last year, which rose 3% from £607,7m in 1998 to £626,7m. But the gains were dwarfed by debts of £7bn, and passenger numbers are still nearly half the forecast 12m at launch five years ago. See also press release. (January 27th)

East Japan Railway reckons its privatisation will not be completed this year, contrary to expectations. Eiji Hosoya, finance director, is concerned that the government's 12,5% stake in JR East will not be sold until next year because the necessary draft legislation to revise the JR Law was not listed for the current session of the Diet (Japanese parliament). (January 27th)
Italian Ansaldo Trasporti wants to aquire the remaining 18.3% of Dutch Ansaldo Signal which is publicly held. Dutch Ansaldo Signal owns Union Switch & Signal in the USA, Canada, Korea, Mexico, Australia, Malaysia, and India, as well as CSEE Transport in France, China, Hong Kong and Venezuela. Ansaldo Trasporti, which owns all of the above, is in turn owned by Finmeccanica. See also US&S company overview.

(January 26th, thanks Richard Mlynarik)
Arlanda Express competitor Flygbussarna is to be sold to its management and two investment companies. Flygbussarna, which runs busses from Stockholm Central station to Arlanda Airport every five minutes, was previously owned by transit authority SL. See also Flygbussarna's official site.

(January 26th)
The Amtrak Reform Council, with bitter opposition from some members, said on Monday the 24th that Amtrak cannot truly meet its congressional requirement of operational self-sufficiency by 2002 because it chooses not to count some major expenses as operating expenses. The council said Amtrak chooses not to count a projected $487 million in depreciation expenses, but Amtrak counters that "depreciation is a non-cash expenditure and as such is not funded as part of a federal operating contribution." See also the Amtrak Reform Council official site.

(January 26th, thanks Richard Mlynarik)
Revenues at BNSF in 1999 were $9.1 billion, up $159 million or 2 percent over 1998 revenues. (January 26th, thanks Richard Mlynarik)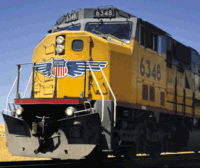 Union Pacific is bringing back its winged shield logo for the 1000 new SD70M locomotives scheduled to begin arriving at UP in April from the Electro-Motive Division of General Motors Corporation. It will be applied to older UP "wide nose" road units as they move through their overhaul and rebuild cycles. The design was first used by Union Pacific in 1939 on its streamlined diesel passenger locomotives. (January 25th)
Metro: Arm of Government?
A US federal judge has denied media corporations' request to limit distribution of SEPTA's free newspaper Metro in and around commuter trains in Philadelphia. A restraining order, requested by companies with interests in The New York Times and USA Today, would have prevented SEPTA from distributing its new free newspaper in any area off-limits to other publications. SEPTA officials said they would not, at least for now, distribute Metro on subway and rail station platforms or in other areas where commuters have paid to gain entry. Michael A. Schwartz, the Philadelphia attorney who argued for the corporations during the hearing, argued that "SEPTA cannot auction off First Amendment distribution rights". Under a five-year contract, the paper guarantees SEPTA a minimum of $30 000 a month in advertising revenue and $15 000 a month in costs to help clean up discarded newspapers. In exchange, the newspaper is to be distributed free at 852 locations in SEPTA's coverage area. See also Associated Press stories.

Editor's comment: Detractors to the newspaper say it is low quality "McNews"; in fact, at least in Sweden, coverage is similar to a serious TV newscast in scope and depth. It can not replace a serious newspaper, however. The silliest claim is that Metro will fail because it doesn't have classified ads. Anyone with an even superficial understanding of media knows that newspaper classifieds are being shunted over to the internet, at such sites as Yahoo Classifieds. (January 25th)
French SNCF is rumoured to be interested in taking a stake in the partial privatisation of the London Underground. Its engineering arm, Cintra, is said to have registered an interest by Friday's deadline. Cintra staff have attended a briefing on the government's private-public partnership scheme given by the deputy prime minister, John Prescott. But SNCF denies it is interested.

(January 22nd, thanks David Fry)
Chinese ticket prices will go up 30% during the upcoming Spring Festival, as up to 130 million passengers are expected to board the trains. The price rises will run from January 29 to February 3 and from February 7 to February 24, when many Chinese are expected to visit their ancestral homes for the lunar new year. (January 22nd)
A train car in Michigan filled with propane caught fire in a rail yard early Friday the 20th, spewing flames and threatening to ignite other cars nearby. The danger forced officials to close schools and order hundreds of people from their homes for fear of an explosion. (January 22nd)

British Railtrack has issued its first profits warning since privatisation and warned it faced a £14m fine for failing to meet the rail regulator's performance targets this year. It said profits would be in line with last year's figure of £428m before tax.

(January 21st)
Property firm Burford Holdings and oil giant Shell have unveiled plans for a giant railfreight park which could create up to 14,000 jobs. The companies said they are in talks over the plan to build a £250m rail distribution park at Carrington near Manchester to be known as the Trafford Interchange. Burford said the development would form part of "a substantial UK network of rail freight-based centres". (January 21st)
Twenty-five (25) people died in the first nine months of 1999 in 167 crashes at railroad crossings in Indiana, USA . As a comparison, ten (10) people died in crashes at railway crossings in Sweden in the years 1993-95. From 1985 to 1994, there were 0,35 deaths per billion passenger-kilometre in Swedish rail traffic; over 80% were accidents at railway crossings. The number of rail crossings in Sweden is falling steadily, as rail administration Banverket builds grade-separated crossings. Editor's not very suttle comment: Are Americans more expendable than Swedes? (Indiana, pop.: 5,5m; Sweden, pop.: 8,9m) (January 19th)
Eurotrain is sueing the Taiwan High Speed Rail Corporation to prevent them from negotiating with the competing Japanese Taiwan Shinkansen Consortium. THSRC has a binding agreement to enter into a $3bn supply contract with Eurotrain, and untill December had affirmed and reaffirmed their commitment to Eurotrain and its TGV/ICE derivative. THSRC in December named TSC preferred bidder because it had a better financing arrangement than Eurotrain; financing problems had plagued the project all last year. Eurotrain also alleges that TSC is offering a signalling concept which is fundamentally different to that employed in Japan and which has yet to be designed, tested and approved. Such a process may be expected to take several years. See also press release and Reuters story.

(January 18th)
London commuter services are under threat from a series of one-day strikes planned by workers at Connex, one of the UK's country's biggest rail firms, which also has interests elsewhere in Europe. The action by drivers in the Aslef union will affect more than 200,000 passengers during six walk-outs, on January 25th and on February 2nd, 10th, 18th, 21st, and 29th.

(January 18th)
Sydvästen Loses WCML
Swedish SJ will regain the west coast main line concession in 2001. Last year, SJ asked the government for more money to run the trains on the west coast main line, and then SJ lost the right to run the trains for 2000 to the Sydvästen consortium, which offered to run the trains without subsidies. However, since the wcml theoretically forms part of the monopoly intercity network, it is not a franchise and will revert to SJ next year, the government has decided. SJ will run the trains in its new company Nordlys, jointly with Norwegian NSB. Nordlys will offer faster and more frequent connections to Olso and København. The reason SJ demanded more money last year was the slow pace of double-tracking the line, which was causing an unacceptable level of irregularities. In contast to British Railtrack, Swedish counterpart Banverket has no service- or network availability guarantees. (January 14th)

The new Swedish authority for purchasing of unprofitable passenger rail, bus and airline services, Rikstrafiken, has put a moratorium on new bidding while it makes clearer guidelines for on service standards. Current franchisees BSM (which runs regional services in Småland) and Svenska Tågkompaniet (which primarily runs night trains to Norrland) will have their franchises extended to sometime in 2002. Braathens Malmö Aviation is discontinuing airlines services to Norrland, just as the Norrland trains franchise is passing from SJ to private Svenska Tågkompaniet. (January 5th, source TÅG issue 10-99)
Denmark's København metro is getting so delayed and expensive that several parties in parliament suggest that stricter rules be implemented for such government projects. The consortium building the metro initially wanted to close the Norreport commuter train station for two years while connecting it to the metro network. The ensuing outrage caused the consortium to suggest a different solution, where passengers would have to go up to ground level, cross a street, and then descend into the commuter train station. Phase one of the metro will open in October 2002, phase two in May 2003. There may also be an extension to Kastrup Airport. See also the Official metro page, and network map. (January 13th)
The US National Mediation Board has announced the three-member panel that will decide on the United Transportation Union's allegation that a representation dispute exists on the Union Pacific Railroad. The UTU's rival, the United Transportation Union, wants a representation election on the Union Pacific Railroad. The two unions are in conflict over representation UPRR since their failed merger attempt last year.

(January 13th)
The US Surface Transportation Board has approved RailAmerica's and RailTex' joint petition for exemption filed in connection with the merger of the two companies. The ruling is effective January 14, 2000. In addition to over 100 letters of support from rail shippers, governmental entities and a number of Class I rail carriers, the petition was supported by several senators and house representatives.

(January 12th)
A strike crippled Hungary's railways on Monday the 10th and negotiations broke off after only an hour. The walkout, stranding thousands of travellers and closing a main corridor between east and west Europe, began at midnight and was called to last 60 hours, ending on Wednesday. Talks failed on Tuesday too.

(January 12th)

Railtrack is understood to have decided not to bid to run part of London Underground's infrastructure under government plans to part-privatise the Tube. Railtrack is believed to be reluctant to upset the government, which faces the prospect of it being the only bidder.

(January 11th)

Taiwan High Speed Rail Corp. signed construction agreements on Monday the 10th worth T$59bn (US$1.9bn) with consortia comprising Japanese, South Korean and Taiwanese companies.

(January 11th)
Official Report: SPAD Caused Norwegian Collision
Ninteen people died when two passenger trains collided head-on in Åsta, Norway, 50 km east of Lillehammer, midday on January 4th. Both trains were diesel-powered and a fire broke out. The fire wasn't put out for hours and flames extended a metre above the trains. The trains were supposed to have met 8 km south of the scene of the accident; an automatic train control system is being installed on the line. The line has an unusual blocking system using magnets at the end of the trains. Detectors in the track thus tell the traffic controller when the train has arrived at or left a station.

An official preliminary accident report has been released. It states that the northbound commuter train left Rustad station at 13:08, two minutes early, and passed a signal at danger. The traffic controller in Hamar was busy with another rail line and did not look at the computer monitor for the Røros line untill 13:12. The computer monitor then indicated that the northbound commuter had left Rustad station and driven through a point/turnout which was originally set the other way. The traffic controller then asked his collegues for numbers to the train drivers. Simultaneously, the conductor in the southbound train alerted the emergency hotline that the trains had collided. The collision occurred at 13:12:35.

The sun was shining brightly that day, and reflected in the white snow; this may have made it hard to see the signals (arial view of Rustad station). The southbound train was pulled by Di3.625, the northbound was a commuter DMU consisting of BM92.14 and BFS 92.84. See also discussion in Swedish and coverage & links at Danger Ahead. (January 4th-10th)
Øresund Scramble
Seven companies have applied for permission to run trains over the new Øresund bridge. Only national operator SJ and west coast franchisee Sydvästen want to run passenger trains. The other five -- Danish national operator DSB, SJ's freight division SJ Gods, private BK TŒg, SJ-owned TGOJ, and private Danish X-rail (site not yet up) all want to run freight trains. With Railion teaming up with DSB (see below), it looks like a scramble for the strategic link. The bridge opens July 1st, 2000. However, it has already been used for smuggling spirits. (January 9th)

Danish freight operator DSB Gods has been partially "merged" with Railion, which was formed through the merger of the German and Dutch national railways' freight divisions, Danish finance newspaper Børsen writes. It is the carload division that is being merged with Railion; the single consignments division will be liquidated unless a partner or buyer can be found. The merger announcement was supposed to be made at a press conference last Monday, but Railion needed more time to examine skeletons in DSB's closet, Børsen writes, saying that DSB Gods' locomotives are actually owned by rail administration Banestyrelsen. Railion has already had DSB agree that Railion will not take over DSB's extensive pensions commitments. DSB's administrative director Henrik Hassenkam writes in a letter to Børsen that DSB Gods has not been sold and that Børsen's article includes many factual errors, but does not mention which they are. DSB's unions wrote a letter to the board of directors that in order to secure the future of the company, the board should resign since it is unable to keep to the budget. The 1998 deficit which was projected at DKK115m, but ended at DKK176m. A formal announcement is expected on January 14th after a meeting with the Danish minister of transport, Sonja Mikkelsen. (January 6th-9th, thanks Flemming Block)
DSB S-tog, the København commuter train franchisee, has had so many delays this year that the ministry of transport is imposing a DKK8m fine. (January 6th)
UPRR Clears Jam, Breaks Records
For the first time ever, all six Union Pacific Railroad commodity business groups have each surpassed $1 billion in annual revenues. UPRR is expecting a nine per cent revenue increase in 1999 compared to 1998. (January 5th)

Union Pacific will be the sole provider of rail transportation for DaimlerChrysler west of the Mississippi River. The new contract will cover rail movement of more than one million finished vehicles annually. It will also cover the rail boxcar movement of auto parts to and from the three DaimlerChrysler plants in Mexico. UPRR will deploy new, high-capacity, tri-level auto-rack cars in 2000 to accommodate consumer demand for DaimlerChrysler mini vans and sport utility vehicles. (January 5th)
Onehundred-metric-tonne cars are now running to Göteborg from forester Stora-Enso's facilities in northern Sweden. The cars have an axle load of 25 metric tonnes and measure 13,8m in length and are 3,6m wide, which is wider than standard. Several hundred million crowns have been expended to adapt bridges and tunnels to the big heavy trains. This is the first time 25-tonne axleloads are permitted in regular service outside the ore railway Narvik-Boden/Luleå. (January 5th, source TÅG issue 10-99)
Two CN trains crashed head on on Dec 30th near Montreal. The crash caused several explosions and sparked a huge blaze in an industrial park about 50 kilometres east of Montreal. One of the trains was carrying petroleum from an Ultramar refinery near Quebec City. More than 500 people were forced from their homes, and a small number still haven't been allowed to return, town officials said on Monday the 3rd. CN is hoping to have the line re-opened to train traffic by Thursday night or Friday morning. See also earlier story. (January 4th)
German DB AG chief Hartmut Mehdorn says the planned Transrapid Berlin - Hamburg maglev needs more cash from the government and industry, or it won't get built. See also Yahoo Full Coverage in Geman.

(January 4th)
The major freight railroads across the United States and Canada have been verifying their computer systems and electronic components since the century change. As of 1 p.m. Eastern Standard Time, January 1, 2000, there is no Y2K impact to report on freight railroad safety or customer service. In addition, the following railways have reported that they did not have unexpected problems with the Y2K millennium computer bug: …BB (Austrian Railway), SBB (Swiss Railway), SNCB (Belgian Railway), SNCF (French Railway). (January 1st/4th)
CPR Holiday Train
Canadian Pacific's Holiday Train has generated about seven tons of food for food banks across the country, and increased awareness of the problem of hunger in Canada. As of December 22nd, the value of all donations, including cash, food and materials in support of the CPR Holiday Train initiative is estimated at about $250,000. The train was aglow with 5000 lights donated from Canadian Tire.

Here are some details on the train:

Train: One locomotive, 4 freight cars, and one vintage passenger car for a total length of about 370 metres.
Power: A new GM-built 4,300-hp, high-performance engine employing advanced alternating current technology.
Freight cars: Known as well cars, these cars have a sunken bottom to reduce the above-rail height of the double-stacked containers and lower the centre of gravity for a more stable ride.
Passenger car: The Killarney, built in 1916, is the oldest passenger car in CPR's vintage fleet; the Killarney has a kitchen, dining room, four bedrooms and a sitting room. (January 1st)