About Erik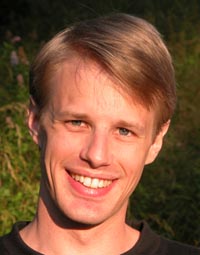 I started this site as a hobby in 1997. It is still a hobby, but it also markets me and my business. I do everything myself: layout, finding and summarising news, as well as programming for the press release monitor.
Thanks to everyone who mails me news and encouragement.
The press release monitor has grown into a fully automatic news searcher. I call the program Marvin, after the existentialist robot in The Hitch-Hiker's Guide to the Galaxy.
My work is described to the right. Please don't hesitate to contact me if you think I can be of service to you.
Erik Sandblom
telephone: +46-(0)70 24 25 117
email erik@eriksrailnews.com
Services Offered
Automated News
• Railnews UK: Daily British rail news and press releases provided by Marvin, my news search program.
• Jarnvagsnytt.com: Daily rail news in Swedish compiled automatically by Marvin.
Websites
• Guy Ehrling Kommunikation: A site I made for a consultant.
• Transrail: Opens full-screen, but you can close that and continue normally if you prefer. Another site I made for a consultant.
WAP
• A WAP version of Erik's Rail News, intended for mobile phones and PDAs, is generated automatically every time the site gets updated. This is done with software I wrote myself.
Writing
I've written for the International Rail Journal, Swedish Macworld, and the leading Nordic train magazine, TÅG.