Folding Bikes
Folding bikes and trains go together like locomotive and carriage. You can use the best parts of public transportation while skipping slower, cumbersome connections.
The Brompton
Brompton folding bikes are a British success story. Britain has the world's smallest mainline trains, (only 2,8m wide) and maybe that's no bad thing. It worked during the war, so why change it now? Perhaps this space efficiency has contributed to arguably the world's best folding bike – folds in 15 seconds.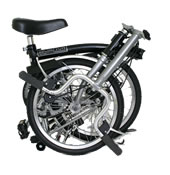 Taking up no more space than a postage stamp when photographed for a web page like this one, the folded Brompton measures 57x55x28cm in real life. See how quickly it folds at Uwe Reimann's page. The folded package locks itself together for easy carrying, and shields you and others from the dirty chain.
The small wheels make it a zippy bike to ride. High-pressure tyres make it roll well despite the small wheels, and rear suspension softens the ride. It rides as well as any ordinary city bike, and some people literally bike all day on it. Mine weighs about 12 kg, while the 2-gear titanium model weighs under 10 kg. Optional luggage instantly clips on and off a special block on the front. You can also have luggage on the rear.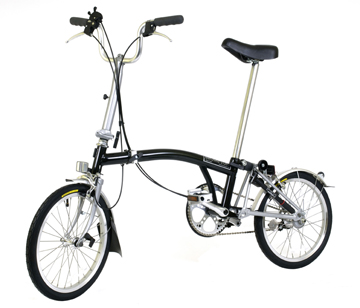 The Brompton has the most thought-through design for commuting by train.
The Easy-Wheels option lets you roll the bike even when folded. While it's often easiest to just unfold the bike, the Easy-Wheels are great for wheeling around a multi-level station in escalators. You can even unfold the handlebars to push or pull the folded package like wheeled luggage.
Other Brands


The beautiful new alumunium Birdy has suspension front and rear, and folds, too.
The Brompton is quite expensive, starts at around €800 for one with mudguards and lights. Another brand is Birdy, which is even more expensive but has more suspension and looks cooler. Dahon makes good but less expensive bikes, designed in California but made elsewhere. They are not so common in Europe. Some Dahon bikes lock together with magnets. Urbanista and Biltema sell less expensive bikes in Sweden. Strida is another bike with a striking design, folding together like a big umbrella.
Cost
Folding bikes are more expensive than ordinary ones, but for many people they can replace a car, or make it unnecessary to buy a second car. Not to mention that we're still in the price range of fixing car brakes!
Erik Sandblom October 2005