July 2004
New Inspectorates in Denmark & Sweden
The prototype TGV train for the new LGV Est is being tested on a test track in Velim in the Czech Republic. The test train is 227m long including two traction units (locomotives) and eight coaches. When put in service in 2007, these trains will run at 320 km/h.
(July 29th)
The Texas Emissions Reduction Program (TERP) has approved $24m in grants for over 25 RailPower Green Goat hybrid yard locomotives. Usually the grants are for 100% of the cost of converting the locomotive to a hybrid. TERP aims to principally reduce smog-precursor NOx (oxides of nitrogen). The applications were submitted by three Class 1 railroads, two regional railroads, and three operators of industrial switcher locomotives. See also
story at Dallas Business Journal
.
(July 29th, thanks Nigel Horsley)
Delays caused by Network Rail have fallen 21% in those areas where the company 'de-privatised' maintenance. Since NR decided in October last year to take over maintenance from its contractors, some 16 000 maintenance staff, a fleet of more than 5 000 road vehicles, a network of training centres and almost 600 depots have come under direct NR control. Construction of new track is still contracted out. Network Rail is the self-owned company which took over Britain's rail network from Railtrack, which was privatised in 1996 and wound up in 2002.
(July 28th)
Accusations Fly after Derailment Kills 37
German DB AG and the Lufthansa airline last year started a joint venture called ic:kurier which handles express parcels. Ic:kurier aims to handle 40 000 parcels this year and 50 000 in 2006. DB has offered a parcel service using intercity trains since 1982. (July 23rd)
Law enforcement officers searched Washington to Boston Amtrak train early today, videotaping passengers and checking their identifications and personal belongings, after a note characterized by officials as threatening Jews was found in a restroom cafe car. See also
Guardian story
. (July 22nd)
Air ticket prices in India have dropped to the level of railway fares. A return air fare between Delhi and Mumbaihas fallen 69% to Rs 4,444 – compared to Rs 4,420 for air-conditioned rail travel along the same route. Nine more low cost carriers have applied for licences and are readying for take off, including one backed by United Breweries and another by garment manufacturer Bombay Dyeing. Low-cost airlines have already taken their first victim, Linx, which runs inter-capital trains in northern Europe. (July 22nd)
Korea's high-speed KTX trains have carried seven million passengers in the first 100 days of operation. Punctuality has been 98,56%.
(July 20th)
The British government will put a Crossrail bill before Parliament for approval this fall. Crossrail is an east-west project which would connect major London stations with the Heathrow airport. As well as creating faster, no-change journeys for commuters and shoppers, the trains would cut overcrowding on some of the busiest Tube routes. The project is to be financed with public and private money, but the details are not yet clear. See also
BBC story
and
Guardian story on Crossrail and national road pricing
.
(July 20th, thanks Matt Carlson)
Crack-detecting trains normally inspect track at about 50 km/h but British researchers have developed technology to inspect it at normal speed. This would let track detector trains inspect track without delaying or cancelling other trains. Ordinary trains could even be fitted with inspection functions. (July 20th, thanks
Erik Kollberg
)
Britain Re-Adjusts
World of Wifi
Chemists in Denmark have developed invisible paint which can protect trains and buildings from graffiti. Graffiti can easily be removed from a protected surface, by simply wiping it with a dry cloth or applying ordinary tape and then removing it again. The new paint is cheap and does not need to be re-applied after cleaning graffiti. Teknologisk Institut, which is behind the new paint, reckons it can be commercially available within a half year. • DSB is also resorting to covering graffiti with foil if there is no time to remove it before putting a train in service. See also
second story
,
Teknologisk Institut's website
, and
graffiti foiling bulletin
.
(July 14th)
Projects in Prague
Train travel in Britain has increased by one third since privatisation, according to the Association of Train Operating Companies. Passenger kilometers increased 36,1% nationally, more than any European country, and 46,5% in London and the southeast over the past ten years. Freight traffic grew 32,6% over the same period. The increasing traffic has resulted in more delays, though punctuality reached 83,1% in the first quarter of this year, an improvement of 2,6% since last year. See also a
summary of the Strategic Rail Authority's progress report
dated June 25th. (July 4th)
Passenger numbers at Eurostar increased 19% in the first half of this year compared to the same period last year. Revenues are up 16% and 89% of trains were on time. Travel times were reduced last September when phase one of the high-speed Channel Tunnel Rail Link was completed.
(July 4th)
Dutch Nederlandse Spoorwegen will be taking over trains in northern England under the new Northern Rail franchise stretching from Manchester to Yorkshire, Newcastle and Liverpool. NS will operate the franchise through its NedRailways subsidiary and in cooperation with Serco, which operates the Docklands light railway in London. Northern Rail will cover 2700 km of track, serve 46m passengers a year and comprise short and middle-distance routes presently served by Arriva Trains Northern and First Great Western. See also stories at
Independent
and
Railnews UK
. See also press releases from
NS
and
SRA
. (July 2nd)
New Zealand bought back the rail network on June 30th from the privatised national railway for $1 and is spending NZ$200m over four years on upgrading and repair work. In return, the train operator, Toll, has agreed to spend NZ$100m on rolling stock. See also stories at
Railnews UK
and
The Age
, and
Toll press release PDF
.
(July 2nd)
Amtrak and officials from five states have submitted a proposal for improvements frequency and speed for existing intercity rail corridors. The states would cover 20% of the construction cost, with the federal government covering the rest, $3bn. Amtrak also wants $1,6bn in subsidies each year for the next five years, with $1bn annually going to repair old bridges and other infrastructure. See also
Amtrak press release
. (July 1st)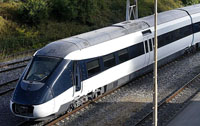 Danish DSB's new IC4 intercity trains will not be ready for service in time for the January timetable due to problems with the onboard computer. However, the timetable is not dependent on the higher speed so trains will still run as planned. DSB is holding payment until the problem has been fixed. 83 four-car diesel trains are on order from Italian AnsaldoBreda for DKK500bn. They reach 200 km/h and will replace many of the 180 km/h IC3 trains, which will be used for regional service, where they in turn will replace older trains to be scrapped. See also
DSB press release
and
IC4 page
, and
older Politiken story
.
(July 1st)
Railion Expands