June 2004
Britain's biggest rail union has called off a 24-hour strike over pay and pensions after Network Rail tabled a better offer. Network Rail had sought an injunction claiming the ballot information provided by the RMT was "inaccurate". A planned strike on Tuesday by workers on London Underground is still due to go ahead, however. See also stories at
Railnews UK
and
Telegraph
. (June 25th)
The German and Danish ministers of transport have made a common declaration in favour of building a tunnel or a suspension bridge across the Fehmarn strait between Denmark and Germany by 2015. The link is to have a four-lane highway and a double-track railway, and will be financed by tolls and loans guaranteed by the government. It would be 18 km long and cost €9bn. The link, together with improvements in track, would give a trip time of two and a half hours between København and Hamburg, compared to four and a half hours now. See also press releases from the Danish ministry of transport
1
and
2
,
the ministry's Femern page
,
report in English on the link's dynamic and strategic effects
,
German press release
,
earlier story
,
www.scandinavian-link.org
, and DN stories from last year
1
and
2
.
(June 25th)
A train derailed between Mangalore and Bombay in India on Wednesday, and 14 people died. The first 11 coaches went off the rails, and local people helped passengers trapped in carriages. Rocks had fallen onto the track after heavy rain. The railway now plans to have a pilot engine run in front of every passenger train on this railway during the monsoon season, to provide clearance and early warnings of possible landslides. A similar accident happened on the same line a year ago, and it was decided to patrol the hillsides to inspect for possible risks. See also
New Kerala story
. (June 17th)
Austria is no longer going to directly subsidise ÖBB's "rolling highway"/roadrail piggyback trains. Instead, each customer will be payed directly, such that another company could start a train competing with ÖBB's, and still benefit from the subsidy. Austria will spend €47m on piggyback subsidies this year. See also
Eurail Press story
. (June 15th)
Kazakhstan plans to convert some of its Soviet broad gauge tracks to standard gauge, to better link to the Chinese and European networks. Strong economic growth in China means Kazakhstan needs an efficient way of exporting oil to China. And building missing links westward would cut transit times Europe-Asia from 15 days on the Trans-Siberian to eight using the new route and the new Bosphorus tunnel in Turkey, Kazakhstan's transport minister Kazhymurat Nagmanov says. See also stories from
Interfax
and
Reuters
.
(June 8th)

The German government is reviewing wether DB AG would be viable as a private company without owning the tracks. The review may delay a privatisation which was planned to happen in 2006. A previous report, by the Morgan Stanley bank, came to the conclusion that a private DB would be viable, but only if the government subsidised the tracks by €2,5bn annually. The Morgan Stanley report also said DB must lower costs to be able to afford a dividend of 4-5% of the value of shares. Chancellor Gerhard Schröder and DB boss Hartmut Mehdorn both want a swift privatisation in 2006. See also
Die welt story on the Morgan Stanley report
, and Eurail Press stories
1
and
2
.
(June 7th)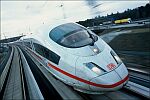 Three daily trains per direction are being cut on the Köln-Frankfurt high-speed line. Currently there are 49 trains per day in each direction. The line was opened in August 2002.
(June 7th)
Britain's Strategic Rail Authority is to be stripped of its role in awarding franchises to train operators, which will be done directly by the department of transport, according to well-placed sources to the Independent newspaper. Further, Network Rail will take over many of the SRA's other day-to-day functions. These two proposals are rumoured to be part of the review to be published next month. The SRA boss last week canvassed support for his own alternate plan, a merger with Network Rail. See also more stories at the Independent
1
and
2
.
(June 6th)
Eurotunnel's plans to run its own trains between England and Basel, Switzerland, have been blocked by banks unwilling to extend new loans to the heavily indebted company. Eurotunnel recently obtained the necessary permits to run trains in France till February 2005. See also
Bloomberg story in English
.
(June 6th)