May 2004
The Köln/Bonn airport is now the ninth in Germany to be connected to the rail network, and the fifth connected to the intercity network. The 15 km new aiport railway links to the high-speed Köln-Frankfurt railway as well as the conventional network. It will be served by fast ICE trains, regional trains and local trains. See also
story at the General-Anzeiger Bonn newspaper
, and
larger image showing ICE3 overpass (416kb)
.
(May 30th)
National Express' takeover of Britain's Greater Anglia franchise is being examined by the Competition Commission because they have a monopoly on trains and busses on certain routes. The franchise is known as 'One Anglia' and covers trains northeast of London. The competition authority says the review could have been avoided if National Express or the Strategic Rail Authority, which is responsible for franchising, had notified them before transferring the franchise. See also
Railnews UK story
, and the
official One Anglia site
. (May 30th)
Heavy equipment maker Caterpillar is interested in buying GM Electro-Motive, one of the world's largest builders of locomotives, according to a union leader. Two private equity funds have also expressed interested in buying Electro-Motive, Reuters reports. See also
Electro-Motive's website
.
(May 29th)
Norway is preparing to franchise passenger rail, and is considering how to make vehicles available to bidders other than NSB. One idea is to break out all of NSB's trains in a separate company, but NSB boss Einar Enger isn't sure that's a good idea. Though many trains from neighbouring Sweden are certified for traffic in Norway, other foreign trains would face a long certification process. Arriva, Connex, Danish DSB and Swedish SJ are all interested in bidding. Conditions for the first franchise, Gjøvikbanen, will be set this fall, and service will start in June 2006. Eight trains weekdays currently run the 124 km between Oslo and Gjøvik. See also short interview with
Einar Enger
and
article about Gjøviksbanen
.
(May 27th)
High Speed in Holland
Twelve AnsaldoBreda Trains for Amsterdam-Brussels
The Dutch and Belgian railways have ordered twelve 250 km/h trains from Italian AnsaldoBreda. The eight-car trains will begin operation southward from Amsterdam in 2007. In the Netherlands, the trains will be operated by HSA, an alliance between train operator NS and the KLM airline. HSA has the concession for passenger transport on the southern high-speed line, HSL Zuid. Traveling time Amsterdam - Brussels will be reduced to 90 minutes, and Amsterdam - Rotterdam to 30 minutes. The trains to Paris will continue to be operated by Thalys, which is partly owned by HSA. See also
network map
,
HSA press release in PDF in English
,
NS press release in Dutch
, and
www.hslzuid.nl about the high-speed railway.
(May 26th, thanks Lucas Rijnders)
The Dutch government is calling for tenders for a 180km high-speed line northward from Amsterdam - the Zuiderzeelijn - linking Schipol Airport/Amsterdam and Groningen/Leeuwarden. Transrapid is bidding to have it use their maglev technology. The government believes a maglev would reduce journey times by at least 15 minutes more than a new high-speed rail line, 60 compared to 75 minutes. Another future maglev project, a 37 km München airport link, is in trouble because of likely government cutbacks. The federal government had pledged to pay €550m of the €1,6bn cost. See also
www.magneetzweefbaan.nl
and the
Dutch department of transportation's zuiderzeelijn website
; and stories at
Aachener Zeitung
,
Eurail Press
, and
Tagesspiegel about the München line
;
Tagesspiegel 2
, and
München Transrapid info
.
(May 18th, thanks
David Peilow
)
Bills working their way through the US Senate and House of Representatives would provide $3,4bn for improving the security of American railways and metros. The money could be used for dog patrols, track surveillance systems, train locating devices, security training for employees, communication systems, and public awareness campaigns. And last week, new anti-terrorism rules went into effect on US transit systems. The measures include bomb-sniffing dogs, removed trash cans and public announcements urging greater awareness of unattended packages or bags. See also
USA Today story
.
(May 26th, thanks
Bengt Mutén
)
Swedish SJ and Flygbussarna Airport Coaches have formed a joint venture for franchised rail. The new company is to be known as Merresor and will be taking over SJ's Värmland regional services June 13th. Flygbussarna also provides bus services to SJ in the event of cancelled trains. Flygbussarna is changing its name to People Travel Group International AB. See also
press release
.
(May 26th)
Swedish SJ has signed up with Paynova's electronic wallet which lets users pay for train tickets and other products online without using a credit card. Users move money to their electronic wallet from their bank accounts. The deal is Paynova's largest yet and helps SJ move ticket sales away from more labour-intensive methods. Last year, 27% of SJ's ticket revenue came from online sales. See also
Computer Sweden article
and
SJ press release
. (May 26th)
Britain will start its first full-scale test of ERTMS, the new European signalling system, on 217km of track in Wales in 2007. But the system will not be deployed in the rest of the country unless it cuts delays by 20%, and if the installation cost can be halved from £250 000 per train. This is because existing signal technology is safe, and the benefits of ERTMS are mainly higher capacity, more flexible operation and better hardware economy. See also
SRA press release
.
(May 21st)
Siemens' Combino trams may need to be rebuilt from the wheels up, according to an internal document obtained by a newspaper. A design error means the roof might fall in, and the bodywork must be replaced on each and every one of the 450 trams manufactured so far. Only the bogies can be kept. The cost is likely to exceed the €368m Siemens has set aside. See also
Siemens' page
and
Ny Teknik story
.
(May 20th)
The Paris-Frankfurt high-speed railway will have two sections equipped with the new ERTMS/ETCS pan-European blockless signalling system, one in France, and the other in Germany. This will form a pilot project for deploying the new system across the French and German high-speed networks. The railway, called LGV Est, will run east from Paris on 300 km of new high-speed track to Lorraine. From there, upgraded lines will branch off northeastward to Saarbrücken, Mannheim and Frankfurt, and southeastward to Strasbourg. The new track will allow 350 km/h operation, but trains will initially reach 320 km/h. The project will be complete in 2007. See also
DB's press release
,
official site
and
DB's page on the German part
.
(May 18th)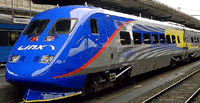 Linx, which operates the trains connecting the Nordic capitals since 2001, is to be liquidated due to high losses. Cheap airlines sell tickets for 500kr which is too low for trains to compete successfully with, given travel times of 4:50 Stockholm - Karlstad - Oslo, four hours Göteborg - Oslo and 3:25 Göteborg - København. Linx is owned by state operators NSB and SJ. SJ kept the profitable Stockholm - Malmö - København traffic, which was never part of Linx. The union is demanding that all 170 employees be offered jobs at NSB or SJ. NSB will take over Oslo - Göteborg traffic by extending three regional Oslo - Halden trains. Taking direct aim at domestic airlines, SJ is extending Linx' current 2h15min Karlstad-Stockholm service to Arlanda airport in January. See also press releases from
NSB
and
SJ
, stories at
Hallansposten
and
Aktuell.no
, and
Linx' network map and timetables
.
(May 14th)
German Ruhrkohle/RAG is selling its rail business, and a consortium of Polish PKP, and German rail companies Rail4Chem and Rhenus AG wishes to buy it. PKP is Europe's biggest coal rail transporter having moved almost 70m metric tonnes last year. Acquiring Ruhrkohle/RAG would increase this to 120m tonnes. See also
story in Polish
and
bulletin in German
.
(May 12th, thanks
Piotr Nietz
)
Stockholm transit authority SL is equipping metro staff with palmtop computers with wireless access to information about delays etc. The palmtops are aware of their location and can give the user relevant information such as which onward connections are available from the current station and when. Stockholm is the capital of Sweden.
(May 12th)
Construction has started on a 13km tunnel under the Bosphorus Strait in Istanbul, Turkey. The €2,1bn project is said to be earthquake-proof since it is built into two metres of rock. Work is led by a Turkish-Japanese consortium and the cost of the project is being supported by the Japanese Bank for International Cooperation, and will be fininshed in 2009. See also stories at
zaman.com
and
BBC
. And a nice song about
Istanbul (not Constantinople)
;
midi audio file
.
(May 9th)
A new 110km heavy haul coal line is to be built in Central Queensland and will open in November 2005. This A$230m project will extend the Kinrola branch from Kinrola to near Rolleston. The Kinrola branch is electrified at 25kv AC, but the new extension to Rolleston will not be. In a separate A$60m project, an additional 30km of duplication will be constructed on the electrified Central line, to cope with increasing congestion due to rising coal traffic. Queensland Rail (QR) is owned by the Queensland government and operates a network of 9500 km narrow-guage railway. See also
The Age story
,
QR press release
,
QR coal info
, and
PDF map
.
(May 9th, thanks Colin Weaver)
Britain's Intercity East Coast franchise is up for grabs starting 2005 and the British Strategic Rail Authority has chosen four bidders to compete or "pre-qualify" for it. These are Danish DSB, FirstGroup, GNER/Sea Containers (the current franchisee) and inter city-railways, a consortium of Deutsche Bahn AG, Stagecoach and Virgin. See also
Railnews UK story
, press releases from
DSB
,
DB
,
Virgin
, and stories at
Der Spiegel
,
Eurail Press
and
Politiken.dk/Yahoo
. (May 8th)
The all-party transport committee of the German parliament says privatisation of DB AG should be postponed. The company must first perform well over a long period, including making profits, the committee says. Another obstacle for DB is that it will not sell the tracks to a third party. This is a problem because it is thought the tracks need long-term public investment for a privatised DB to be successful, yet DB may not be privatised if it requires public funding. DB boss Hartmut Mehdorn wishes to privatise by 2006 in order to have access to capital via the stock market. See also
Eurail Press story
.
(May 8th)
New Zealand Tranz Rail, which has been taken over by Australian transport company Toll Holdings, is now to be known as Toll NZ. Toll plans to return track ownership to the government, which will upgrade it for NZ$200m over five years starting July 1st, when it takes over. The maintrunk line needs work to remove speed restrictions. Toll has promised to spend NZ$100m on rolling stock. See also
track transfer story
and
Railway Gazette story
.
(May 2nd)
Small Losses in Sweden
SJ lost SEK47m on revenues of 1387m in the first quarter and is cutting 130 administrative jobs after cutting over 300 jobs last year. SJ has also insourced catering and train cleaning, and built its own maintenance shop for the new Alstom double-deckers. Passenger volumes grew overall, but first-class travel fell 15%. SJ plans to break even this year and deliver profits in the hundreds of millions starting 2006. Rail market share held at 14% last year, while road increased and air decreased. The government rescued SJ from bankruptcy last year with a cash infusion and other aid. The government says the aid is not against European competition rules. See also
Dagens Nyheter story
,
older Sveriges Radio story
, and SJ press releases
1
and
2
.
(May 1st)
Attempting to reduce costs, Swedish SJ is operating certain trains with only a driver and no conductor. An authority ruled against this in December, but SJ has appealed, and can not be sanctioned until the government has ruled on the issue. SJ says the practice does not compromise safety since it does not apply to situations where there are passengers in vehicles apart from the driver's vehicle. See also earlier stories,
1
and
2
. (May 1st)
Freight operator Green Cargo reduced its loss to SEK88m on revenues of 6192m last year. Its trains were more punctual last year than ever before. Norwegian-Swedish intermodal operator CargoNet reduced its loss from NOK55m to 10m. See also
GC press release
and
CargoNet PDF
.
(May 1st)
Sweden is investing SEK108bn in railways in the next 12 years, and a further 38bn will go to maintenance. New projects include a commuter train tunnel under Stockholm, double track and higher speeds Göteborg-Trollhättan(-Oslo) by 2011, Göteborg-Landvetter Airport by 2015, and double track on the major Hallsberg-Mjölby freight artery. The national budget was tabled April 16th. See also rail administration Banverket's
info on the spring budget
,
parliamentary deal from February
, and
plans for western Sweden
.
(May 1st)