October 2003
Ikea Quits Train Business
Ikea Rail is being liquidated and will stop running its freight trains between Sweden and Germany on January 15th. The startup costs were high and the trains too expensive to run. It took a long time to find locomotives and get permits from the three countries the trains pass through. Ikea still aims to move more freight from road to rail and is looking at new transportation arrangements. See also bulletins at
Tåg-nytt
and
Eurail Press
. (October 30th)
Ikea runs its own nonstop freight train between distribution centres in Älmhult in Sweden and Duisburg in Germany, and half of the freight carried is for other clients. The trains average 70 km/h and the Autobahn charge for trucks/lorries is raising demand for Ikea Rail's services, says CEO Christer Beijbom to Ny Teknik.
(October 4th)
In the aftermath of two derailments earlier this month, documents obtained by the BBC indicate that Tube track is not being inspected properly. London Underground is to have admitted that manual track assessment is not being done at the required frequency due to a lack of competent staff. The track of the London Underground was privatised to two consortiums in January and April, but the deteriorating state of track and inspections are said to have started earlier.
Workers are threatening strikes
. See also
London Underground press release
.
(October 28th)
British Network Rail is cancelling its track maintance contracts with private companies and doing the work itself, which will save up to £300m annually, it says. The seven contractors employ more than 18 000 workers, but their jobs will likely be transferred to Network Rail.
However
, Network Rail will continue to spend more annually with private sector contractors than it will on in-house work. Annual spending on renewals, which will continue to be contracted to the private sector, is set to be £3,5bn this year, against £1,3bn for maintenance work. The company is also
hiring 3700 engineers
. See also
Times story
. (October 26th)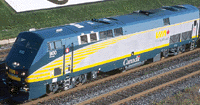 Canada will spend C$700m on passenger train operator VIA over the next five years, on top of the annual C$170m subsidy. The number is less exciting than the C$3bn high-speed Montreal-Toronto project talked about last winter, but the government says improvements will be made between Ottawa and Toronto, a trip which currently takes 4 hours. Montreal-Toronto also takes 4 hours, while Montreal-Ottawa takes 1:45. The money will also be used to install toilet tanks on remaining trains and buying newer, cleaner locomotives. The plan
faces scrutiny
by the new Prime Minister Paul Martin who takes over in February after Jean Chrétien retires. Also, CN is
spending C$24m
this fall on sidings, signals and bridges on its Halifax-Montreal line which is also used by VIA trains. See also
VIA Rail press release
, and stories at the Toronto Star
1
and
2
.
(October 26th, thanks Jakob Christoffersen and Kevin Egan, photo by
Brian Switzer
)
French SNCF, German DB and Italian FS are discussing common specifications for a next-generation fast train. It is hoped a single train would lower costs by 20% while perhaps going faster than the current 300 km/h industry standard, and be ready by 2010. The European competition authority might stop the project if co-operation gets too cozy. • German DB has accelerated a
test train
from 0 to 300 km/h in six kilometers. Ordinary ICE3 trains take 20 kilometers to reach this speed. See also
Ny Teknik story in Swedish
,
Reuters story in French
, and
La Tribune articles in French
.
(October 23rd)
Wireless, Internet-less TGVs
TGVs to Bordeaux are being equipped with wifi wireless ethernet which allows passengers with laptop computers to access preloaded content such as news and weather. The trains also have a GSM/GPRS link to the internet, and passengers may use this for sending and receiving emails without attachments, but it is not possible to surf the web. The service will be tested from November to March. Stations along the way are also being equipped with wifi. These station networks form a gateway, or "hotspot" to the full internet and are open to the public. Full internet on trains is available on some
Montreal-Toronto
trains in Canada, as well as
Linx
trains in the Nordic countries, and
London-Scotland GNER service
. Also, since July 2001, TGV passengers may
rent a DVD terminal
and movie from certain stations for €10. See also
SNCF PDF (680kb)
.
(October 20th)
The Union International des Chemins de Fer, UIC, authorised a new kind of non-metal brake shoe on Wednesday the 15th. It makes half as much noise as conventional cast iron brake shoes. The authorisation was welcomed by German freight operator Railion which two years ago decided to use the new brake shoes on all new freight cars. See also very similar
Eurail Press bulletin
.
(October 20th)
Hallandsås Tunnel Work to Resume
The Hallandsås tunnel project in southwestern Sweden may continue after the higher environmental court upheld the ordinary environmental court's permission given to rail administration Banverket to leak groundwater through the tunnels at 100 litres per second during construction. This decision is technically unrelated to the chemical spill in June, when a cement mixture was leaked into a stream and killed fish. The cause of this has not been officially determined. Project boss Christer Möller says construction is likely to resume this winter. See also press releases from
Banverket
and
the court
, and Banverket's
PDF in English
.
The project has endured several scandals. The first entrepreneur, Kraftbyggarna, failed to make its tunnel-boring machine work as the ridge is too soft. The second, Skanska, used the watertighting agent Rhoca-Gil on a large scale, some of which did not react properly and poisoned wells. Water had to be trucked in. The plan now is to reinforce the ridge with cement-injected bored holes, and then use a tunnel-boring machine. The project is several hundred per cent over the original budget and fails cost-benefit analyses.
(October 17th)
Photos of Oz Transcontinental
Barclay-Mowlem have sent this beautiful photo of their work on the bridge over the Katherine river. Also one of
joining of the track between Katherine and Tennant Creek
. See also
press release
.
(October 17th)
A conference on Eurasian rail transport law is being held in Kiev, Ukraine, on October 21st-22nd. The question raised is how two bodies of law, COTIF and OSZhD, should be co-ordinated to avoid conflicting and duplicate laws. The conference is being organised by the Ukrainian department of transportation,
OTIF
, and the European Commission's transport directorate. (October 16th)
Britain's Royal Mail, which in June announced that it is cancelling its mail trains starting in March, has said it is negotiating with seven train operators to keep them going. The Mail says the current operator, EWS, is too expensive.
(October 16th)
Bombardier boss Paul Tellier says the company plans to close six of 37 factories in Europe by January. He said this in an interview with La Presse of Montreal, which charges for back articles, Tuesday the 7th. Bombardier will be releasing more details shortly. See also
Guardian story
and
Eurail Press bulletin
. (October 11th)
Swedish rail administration Banverket will pay train operator SJ for delays arising from problems caused by them, starting in December and only for X 2000 trains Göteborg/Borås/Jönköping-Stockholm. Negotiations are in progress and details are sketchy. At the same time, SJ will introduce its own unrelated "travel guarantee" on all its trains, giving passengers vouchers for free travel if their train is delayed more than 20 minutes for each hour the trip was supposed to take. SJ is also making some adjustments to prices following a 3% decrease in volume since July, something media hysterically pounce on as being a "crisis". See also stories at
DN
and
SvD
.
(October 11th)
Amtrak's fast Acela trains will make fewer stops between Boston and Washington in order to reduce the number of late trains. Weekend service will be halved to make more time for train maintenance, and schedules will be revised to more accurately reflect actual trip times. The changes take effect with the new timetable October 27th. See also
press release
.
(October 7th, thanks
Nic Newman
)
The Bush administration's plan to restructure Amtrak has met stiff opposition from both parties in a Senate committee. Over six years, the bill would end federal operating subsidies for passenger rail, with the federal government paying half the capital cost. Some Amtrak routes would be franchised, and the Washington-Boston Northeast Corridor would be turned over to the states it runs through under a no-cost 99-year lease. But the administration's plan makes no mention of what the reform will cost, causing senators to think Bush is going to shaft passenger rail. Also, workers are
threatening to go on strike
against the government's chronic underfunding of Amtrak. See also
Amtrak President's statement
.
(October 4th)
Connex has started three unsubsidised intercity trains in Germany. However, the third one is being pulled at the end of this month. The trains, which go Neuss - Köln - Berlin - Rostock, are 45% full and this is rising. However, they are still not profitable enough. See also
press release
.
(October 4th)